Imagine making friends, rearing virtual pets, buying virtual property, selling products, working in a lifelike remote setup, and conducting events using 3-D virtual objects? Well, that's where we are headed.
The metaverse hype cannot be overlooked – it is all over the place. Estimates are that it will reach a value of $800M by 2024.
The Metaverse can be defined as a network of 3-D virtual worlds where people can interact, carry out business, and build connections through their 'avatars'. Think of it as a successor of today's internet, but in virtual reality.
Technology titans and gaming giants like – Meta(Facebook), Microsoft, Epic Games, and Roblox are, to name a few that are creating their virtual world.
While still nascent, conducting events in the Metaverse is picking up. Brands across industries are digging to explore their possibilities in the AR, VR, and AI-enabled environment. In a survey of 1000 respondents, 48% said they would join the Metaverse for art and live entertainment, while 44% would participate for bitcoin and NFTs.
With this in mind, let's find out more.
Types Of Metaverse Events In 2022
"I believe the metaverse is the next chapter for the internet," said Mark Zuckerberg, and digging into the exponential potential of this world, event planners are already placing their bets on it.
Metaverse gatherings leverage the power of VR to create engaging, social, and inclusive events, which easily attract high-paying sponsors, attendee registration, and ROI.
Metaverse Concerts/Entertainment Events
Concerts are immersive. On the Metaverse, participants can create their avatars and get a sense of being present in the venue for real. And like in any live concert, they can interact with each other- groove, laugh, and sing along.
Organizers can also add an AI chatbot as guides or assistants to guide, greet or interact with the attendees, alongside fun and engaging 3D objects that enhance the feeling of shared experiences. Also, allowing the attendees to move around freely, building connections with others.
Be it musicals, stand-up comedy gigs, open mics, or any workshop, the Metaverse is well-equipped to enhance ticket sales and attendees' experiences.
Marshmello's in-game concert in Fortnite was virtually attended by 10 million people, making it the game's most significant event ever.
Pro Tip:
Create an event exclusive hashtag, aggregate all the content created by attendees and fans using the hashtag, and showcase it in real-time on a social wall.
It inspires people attending the event to create more content, accentuating the overall engagement.
Case Study: Parookaville Boosts Engagement With Live Social Wall For Music Events
Metaverse Gaming Events
Although video games have been engaging audiences for decades altogether, significant advancements have been made in preparations for the Metaverse. Being a lifelike world, audiences can create their virtual avatars and curate setup within the Metaverse, allowing them to have a presence similar to what they have in reality but with greater flexibility.
Instead of simply streaming games or watching someone play, imagine being able to join the game and interact with gamers on an equal footing. While on the organizer's front, metaverse gaming events unleash incredible earning opportunities.
Roblox players spent $652 million on the site's virtual currency.
Bring all the gaming drama on the social wall to boost the audience's engagement further. Add additional elements like a countdown, clock, and leader scorecards and capitalize on the gamers' spirits.
Metaverse Trade Shows
Connect your exhibitors with buyers worldwide in an immersive metaverse trade show. You can reach out to audiences on any device, attract their attention, drive lead generation, and build the sales pipeline.
Be it food, car, property, technology, or any other trade show; organizers can –
create stunning 3D designs
customize and make virtual booths branded
enable live chat tools to boost networking
embed an online shop to drive conversions
add gamification like trivia, scavenger hunts, etc., to keep the attendees hooked
Stream live video into 3D
Presell 3D floor plans
The best part about conducting a trade show in the Metaverse is co-presence. Attendees create their virtual avatars and create networking opportunities with others. Research suggests this instils a sense of inclusion and a user's feeling of co-presence.
Pro Tip:
Exhibitors can take the audience engagement to another level and gather exponential reach with trade show social walls.
Platforms like Taggbox Display allow brands to feature various content on the social wall – ranging from branded content, videos, HTML code, QR codes, and sponsors' content. A mix of content evokes emotions and skyrockets the ROI of the event.
Metaverse Graduation Ceremonies
Host an unforgettable virtual graduation ceremony that allows your constituents to interact, network, and celebrate together without getting fatigued.
Platforms like MootUp access lifelike avatars for users to communicate 1:1 via video conferencing, chat, and video calls, unlocking an immersive experience for the students, teachers, and parents attending the graduation ceremony.
Further, Metaverse being social facilitates "watercooler moments" where attendees can take five with others and get informal as they'd in a real scenario. This creates a celebratory environment and lets everyone enjoy their big day.
Here, deploying a social wall can add to the 'moment in a lifetime' of the students, as you can capture all the content created by the constituents and embed it on your website later. Any better way to recognize your graduates? We bet not!
Case Study: UAE University Integrates Social Wall With Its Virtual Graduation Ceremony
Metaverse Award Functions
Organizing award functions in the Metaverse is undeniable one of its best use cases. Primarily because of the scalability that it provides. Event organizers need not have to book large spaces to accommodate the guest list. They need a 3D model where all the glitz and glamour can suffice.
Attendees can create their avatars, chat with others, take pictures leveraging photo booths, and move freely, building connections.
Organizers can enable live Q&A and chat sessions, platform integrations, and polls to maximize audience engagement and attention.
Pro Tip:
Social walls for award ceremonies are one of the most engaging tools in the Metaverse. The attendees will create content using the exclusive award hashtag, which can be showcased on the social wall alongside the nominations and sponsors' content.
Further, you can also share snippets of categories, memes, etc., to escalate audience engagement and create a real-life event.
Metaverse Job Fairs
Conducting job fairs in the Metaverse is the perfect way to find and recruit ideal candidates for your job openings.
Employers can access a larger candidate pool, screen the top ones and engage with them. Corporations can also provide training, leveraging the interactive powers that a 3D environment unlocks.
Set up a customizable exhibit booth where you can share job boards with current vacancies, upload company profiles and videos, interact privately, and include fun elements and/ or interactive 3D objects.
A 2020 study found that representing workers with an avatar on a leaderboard escalated helping behaviors and increased motivation among workers that had previously not been seen.
Metaverse Product Launch
The product launch anticipation is for real. Brands can capitalize on it in the Metaverse because, with innovation and creativity, the sky's the limit.
Inside Roblox's virtual world, a digital-only Gucci bag sold for $4,100, which is more than the bag's value in the real world,
Businesses can showcase live or pre-recorded demos of your product, upload walkthroughs, tutorials, and testimonials, and let your attendees place orders directly on the website.
Pro Tip:
Apart from featuring what your attendees share on their social profiles, you can include features of your latest addition, what people in superior official order are sharing, celebrity posts, and visuals of products.
This can seamlessly entice the audiences' attention and cash on the metaverse boom.
MootUp x Taggbox Display – The Revolutionary Partnership
MootUp is the world's first 3D virtual events and meeting solution platform, powered by Hyperspace – a metaverse for business platforms.
With MootUp, organizations are vested with the ability to host meetings, events, and community gatherings, in an immersive 3D environment. The platform can be accessed across devices without the dependability of VR headsets and app downloads.
Further, integrations with 2D apps and communication tools like Zoom, Hopin, Teams, and Slack are also available to B2C consumers.
The major advantages of using MootUp are:
Scalability: Reach 10,000+ users across all devices, including major VR/AR headsets.
Audience Engagement: Driving audience engagement – a key aspect of events that accentuates MootUp's promising 3D features and elements.
Accessibility: Brands can leverage MootUp directly in the browser, phones, tablets, and computers, including VR/AR devices.
Immersive Environments: A 3D, avatar-driven setup and 1B+ style combinations, and lifelike gestures boost audience interactions and engagement.
Fully Customizable: Choose from a wide variety of layout options, add branding or bring your 3D models.
Taggbox Display, on the other hand, is a leading platform for social walls. Brands can create, customize and publish content from multiple social platforms on screens of any size, any time, at any place.
With Taggbox Display, brands can have complete control over the content, credit to its powerful moderation and customization functionalities. Brands can filter out what content is most suitable for their audience and add custom templates, backgrounds, colours, etc., to enhance the look and feel of the social wall.
Global businesses like Facebook, Etihad Arena, Oppo, Marvel Bros, and Accenture are a few of the ten thousand the platform has served.
Other features offered are:
Detailed audience insights to track the social wall's performance;
In-built Studio to creatively play different content with the social wall;
Highlight sponsors' content to effectively promote sponsors & maximize revenue;
Gain additional content with private post uploads, eliminating social media;
Ensure audience engagement with real-time content updates.
What Can You Expect From This Partnership?
Simply put, brands can conduct various events in the Metaverse and enhance their engagement by setting up a social wall within a 3D environment/ venue.
The Metaverse provides an opportunity for enterprises to reboot the balance of hybrid, virtual and live events and reclaim the spontaneity, interactivity, and excitement they bring along. An addition of a social wall can reshape the immersive experiences that the event has the potential to create.
A new digital era is here, and this partnership can help you make the most of it in terms of revenue, audience experience, and growth.
Metaverse Events: Ultimate Guide [2022]
The onset of the COVID-19 pandemic caught entrepreneurs and educators by surprise. Within a short time span, planned events had to be canceled or transitioned to an online format. After more than two years, these technologies for online events have advanced to deliver more opportunities and tools to allow for a truly immersive and engaging experience.

These new tools allow you to easily transition your events into a metaverse reality. You can easily meet with employees, host a board meeting, give a lecture, or create a webinar for planning your marketing strategy. Let's go through some of the most critical components for hosting a successful metaverse event in 2022 that will guarantee your next event is a hit.
What is a metaverse virtual event?
A metaverse virtual event is an interactive meeting that takes place within a special online platform. Unlike in-person events, metaverse events are not limited to one location. Participants can join from anywhere in the world as long as they have internet access.

Modern metaverse events provide a number of features that help to create a highly immersive atmosphere. There are a variety of online spaces available to "host" an online event, attendants are present there in the form of their avatars, and there are different options for activities during an event.

After the COVID-19 outbreak, the metaverse and hybrid event experiences have been received extremely positively. A 2021 study found that 91% of respondents were highly satisfied with online events. And according to Grand View Research, the global virtual events market will grow to more than $500 billion by 2028.
What are the different types of virtual events in the metaverse?
Virtual events are a separate type of event, and while they do not reinvent the wheel, they do deliver the novelty of technology to what's currently available. Virtual events can be divided into four main types.
Like traditional conferences, virtual conferences are built around a popular agenda, speakers with reports – and, let's not forget the important thing – coffee breaks. Participants view performances in real time and build their own programs based on the content of interest and interacting with other participants.
Virtual conferences consist of multi-session content and may include community engagement tools.
Webcasts, webinars, and training meetings
A webcast is an event that a host broadcasts using streaming technology. Webcasting is often used to spread important messages in cases where it is not possible to hold an event with the direct presence of participants. Broadcasts can be embedded in other sites or broadcast live through social networks, for example, through Facebook Live.

Webinars were originally conceived as "online training seminars", but are now used for events of various formats, from training to online sales. This is where participants from all over the world join in and listen to one or more speakers presenting content. The standard length of webinars is from 30 to 80 minutes.

Webinars usually use video conferencing tools that allow you to not only see the speaker but even ask questions. This is not necessarily a "live broadcast" as you can also put a pre-recorded video on the air. By the way, in any type of virtual event, it is usually better to record media. Once concluded, the recording can be offered to users upon request, maintaining interactions even after the meeting.
Podcasts and online radio
If you can't create visual content, or if you want to make your on-air event available in more formats, consider podcasts or internet radio.

Podcasts have maintained their popularity due to format flexibility. Podcasts are easily listened to by people on the way to work, even in places with a weak network signal. Unlike a podcast, real-time internet radio cannot be stopped and played at will, but it expands the audience of the broadcast compared to video content.
Not all virtual alternatives are able to replace the environment and experiences created by physical events. But if it is not possible to gather a large audience in one place, then part of the event can be virtualized. For example, if an international company wants to communicate with teams in other countries, co-broadcasting offices in the form of an interactive webinar between them are suitable.
What is the difference between metaverse events vs hybrid events?
Both a hybrid and metaverse event provides attendees with a virtual experience. But a hybrid one offers an in-person component in addition to online. In such a scenario, some people can attend an event personally while others can join virtually.

Hybrid events are a bit more difficult to organize than traditional or completely virtual ones.

With hybrid events, organizers have to coordinate two different agendas to provide a seamless experience. While in-person guests are attending a networking session, virtual attendees will need to engage in a different activity. However, with the right virtual event management platform, organizing a hybrid event isn't such a headache.
data:text/html;https://www.youtube.com/embed/vQdGZYJu2T0?feature=oembed&autoplay=1;base64,PGJvZHkgc3R5bGU9J3dpZHRoOjEwMCU7aGVpZ2h0OjEwMCU7bWFyZ2luOjA7cGFkZGluZzowO2JhY2tncm91bmQ6dXJsKGh0dHBzOi8vaW1nLnlvdXR1YmUuY29tL3ZpL3ZRZEdaWUp1MlQwLzAuanBnKSBjZW50ZXIvMTAwJSBuby1yZXBlYXQnPjxzdHlsZT5ib2R5ey0tYnRuQmFja2dyb3VuZDpyZ2JhKDAsMCwwLC42NSk7fWJvZHk6aG92ZXJ7LS1idG5CYWNrZ3JvdW5kOnJnYmEoMCwwLDApO2N1cnNvcjpwb2ludGVyO30jcGxheUJ0bntkaXNwbGF5OmZsZXg7YWxpZ24taXRlbXM6Y2VudGVyO2p1c3RpZnktY29udGVudDpjZW50ZXI7Y2xlYXI6Ym90aDt3aWR0aDoxMDBweDtoZWlnaHQ6NzBweDtsaW5lLWhlaWdodDo3MHB4O2ZvbnQtc2l6ZTo0NXB4O2JhY2tncm91bmQ6dmFyKC0tYnRuQmFja2dyb3VuZCk7dGV4dC1hbGlnbjpjZW50ZXI7Y29sb3I6I2ZmZjtib3JkZXItcmFkaXVzOjE4cHg7dmVydGljYWwtYWxpZ246bWlkZGxlO3Bvc2l0aW9uOmFic29sdXRlO3RvcDo1MCU7bGVmdDo1MCU7bWFyZ2luLWxlZnQ6LTUwcHg7bWFyZ2luLXRvcDotMzVweH0jcGxheUFycm93e3dpZHRoOjA7aGVpZ2h0OjA7Ym9yZGVyLXRvcDoxNXB4IHNvbGlkIHRyYW5zcGFyZW50O2JvcmRlci1ib3R0b206MTVweCBzb2xpZCB0cmFuc3BhcmVudDtib3JkZXItbGVmdDoyNXB4IHNvbGlkICNmZmY7fTwvc3R5bGU+PGRpdiBpZD0ncGxheUJ0bic+PGRpdiBpZD0ncGxheUFycm93Jz48L2Rpdj48L2Rpdj48c2NyaXB0PmRvY3VtZW50LmJvZHkuYWRkRXZlbnRMaXN0ZW5lcignY2xpY2snLCBmdW5jdGlvbigpe3dpbmRvdy5wYXJlbnQucG9zdE1lc3NhZ2Uoe2FjdGlvbjogJ3BsYXlCdG5DbGlja2VkJ30sICcqJyk7fSk7PC9zY3JpcHQ+PC9ib2R5Pg==
Why host a metaverse event?
There are many ways metaverse events deliver value. First, they allow the individuals or companies hosting them to reach a wider audience. For example, if you were to host your event in New York City, not everyone in your audience would be able to attend due to the cost of travel. With a metaverse travel event, it's no problem.

Metaverse events are also much cheaper. Event organizers don't have to book gigantic seats or hire a group of temporary staff. These savings can be passed on to each metaverse member in the form of lower ticket prices.

Metaverse events are extremely measurable. Companies can easily find out which sessions were the most popular, how many people attended, where those attendees live, how they paid for tickets, and more. Almost every visitor action is easily tracked and analyzed. This information can then be used to improve the event strategy.
The benefits of metaverse events
The priority and obvious value of a virtual event is reaching a wider audience. Holding an event in a particular city means those who are far away can't attend, or at best, it is inconvenient or expensive to get there.

Also, as mentioned, an online event is cheaper, eliminating the need for temporary employees and additional intermediaries.

The metrics of these events are much easier to measure — you can easily get data on how many sessions or users there were at peak moments. A detailed specification of the invited guests will also be available: you will know their geography, tastes, and much more, especially if you choose a hosting platform that is compatible with your corporate CRM. Further, this information is structured, analyzed, and used in building an organization's strategy.

Here are some of the most impactful benefits of metaverse events in details:
Accessibility. Expand the scope of your brand without having to travel. Virtual events can not only connect you with a global audience in real time, but through the recording of events, your event content can be accessed on-demand. This gives people more opportunities to consume your content at times that best suit their schedules. What's more, all attendees and speakers need is a computer, laptop or mobile device, and a reliable internet connection.
Engagement. Personal events are unmatched in their ability to engage and facilitate real human connections through creative interaction. For this reason, you may be concerned that virtual events fail to attract an audience. While there is no avoiding the fact that there are limitations compared to face-to-face meetings, there are plenty of opportunities to mix rich content with live polls, Q&As, and dashboards to keep engagement levels high throughout lengthy sessions.
Social media can also be used as a great engagement tool — use event hashtags, encourage attendees to post images of their highlights from the event, and get creative with other ways to build a sense of community through social channels.
Experience with multiple or single content. As with physical events, virtual events have the ability to run multiple content streams simultaneously. This allows different speakers to host sessions at the same time and attendees to choose which sessions they want to watch. If this is not required for your event, then working with multiple materials is best.
Network interaction. While there is no avoiding the fact that in-person events are the most appropriate way to network and make meaningful business connections, networking can still be incorporated into a virtual event's agenda.
Give attendees the opportunity to schedule one-on-one meetings or get together in group meetings where they can connect with each other, your team, sponsors, or speakers over the internet. A range of tools can be used to help participants get the most out of their interactions.
Insights: metrics and insights into the data generated from virtual event platforms can help measure ROI and success against predefined KPIs. The information obtained can be used to determine whether your event was successful and influence future decision-making.
What are the cons of metaverse events?
Of course, it would be naive to believe that a virtual event is a complete benefit without flaws. Most of the problems appear because of the inconsistent and incomplete feature sets of online platforms. Here are some of the cons of metaverse events:
Difficulties in engaging. Engagement has become one of the most sensitive issues for online events. The vast majority of participants in online events often or always solve extraneous tasks while watching and listening to the content. It is also much easier to disconnect from a broadcast than to get up and leave the first row of the hall.
The online format highlights all the shortcomings of speeches — monotony of speech, inaccuracies, inconsistency in speakers' reports, and lack of quality content. The conclusion naturally arises that, in order to keep the attention of participants, it is necessary to increase the value of the content, give out information in a more concentrated way, squeeze highlights out of every report, and prepare for questions.
Famous moderator partner Grigory Airiev also advises online event speakers to pay more attention to preparation and work on their speech delivery.

There is a misconception that, unlike regular events, the online format basically involves only passive viewing of content. But this can only be the case if it is intended only to view certain content, without participating in the discussion, for example, watching a movie together. In reality, even watching a movie can be with discussion or commentary during the movie, thereby increasing the interaction between the participants of the event.
Various game mechanics can also help organizers with involvement. Quizzes and ratings, challenges, and giveaways at the end of the event provide viewers with the opportunity to directly participate in the event, express their reactions, and become more deeply involved in it. It is better to combine all these tools during a broadcast so that the interest of participants does not fall.
Psychologist Margarita Ushakova also advises organizers to be more interested in the opinions of participants: "Traditional surveys, feedback forms, chat discussions, specifically organized focus groups, and video exchanges within communities or personalized video calls can help.
Firstly, all this allows you to quickly fine-tune events to the interests of your target audience. Secondly, this type of work shifts the focus from speakers and presenters to participants, giving the latter the opportunity to be significant, to see the reality of their presence, and to influence what is happening."

Awkward networking. Thus far, there are still not many tools for convenient networking at online events. During group calls, all participants are present, but only one speaks. In the general chat, each remark looks like it was voiced into an "open microphone". You can't leave private chats "for coffee" and disappear without an unwanted conversation.
That is why we analyzed these complexities and implemented them in Party.Space Metaverse: you can speak using spatial audio in 3D space, you can sit down at the table and talk with each other via video camera the way you would communicate in a live presence.

Some organizers will send attendees a contact list of other attendees after the event, but this can lead to backlash and spam complaints. In addition, a database can fall into the wrong hands. If you plan to send participants' data to each other, advise them to create a separate email for receiving "virtual business cards" — partner letters and invitations to communicate with other guests of the online event. The participant will be able to use this box in the future and at other events.
Online events are tedious. What do most online reports look like? A disembodied voice speaking over changing slides, or talking heads of presenters (we bet you don't often participate in events in your life, standing directly in front of the speaker and looking into their eyes for 30 minutes in a row).
Video conferencing tires people far more than live interactions. This not only happens because of sitting in front of a monitor for lengthy periods but also from a lack of non-verbal signals humans crave. According to Daria Kuss, a cyberpsychologist at Nottingham Trent University (NTU), a lack of information makes people concentrate harder to get the most out of the audio and video channels, therefore making them tired faster.

A lot of distractions, an unusual format, lack of allocated space, and possible interference with communication, all this is exhausting, makes it difficult to concentrate, and reduces the overall satisfaction derived from an event. Experts advise organizers to reduce the duration of a session, provide attendees with a live handout, and allow them to turn off the camera from time to time (this also applies to speakers).

Online events require some time to get used to the platform. Even the most intuitive ones, like Party.Space, require few minutes for a person to understand the navigation and communication opportunities, which may sound problematic for not tech savvy people.

Metaverse parties require good promotional campaign even in case of the internal company event to show people that it is not another boring Zoom meeting but an engaging party in 3D environment where you can communicate and have fun indeed
How to organize a metaverse event
Whether you have experience running events and it's time to expand your audience, or you're just starting a marketing campaign and want to attract new customers, launching a virtual event is a great way to build an audience.

Depending on your platform of choice, the event will include varying degrees of interactivity. Your content may consist of live video streams, articles, audio recordings, and chats. The main focus is that all this is connected by a common (and urgently desirable) theme, that creates a unique experience of participation for attendees.
Relevance, a well-thought-out strategy, and an unconventional format attract people, turning the event into a valuable business asset. Below we look at the seven steps in planning, marketing, and hosting a virtual event that we're happy to vouch for.
1. Create the proper context
It's relatively easy to gather different speakers, spread out a webinar broadcast over a couple of days, and call it a virtual conference. The problem with this approach is these types of sessions are loosely coupled. The user will select one or two performances and there will be little or no interaction.

To bring real value and coverage, an event needs curation. Your task is akin to putting together a museum and gallery exhibition: each work exhibited in the selected exhibition begins to play with different colors, increasing the effect of the entire collection and creating a holistic impression.
2. Provide simple marketing opportunities for partners
The best virtual conference promoters are the people who are interested in it. These can be presenters, sponsors, participants, and visitors. Make sure everyone is able to easily advertise their participation.

Prepare banners, email templates, speaker photo frames, and hashtags for social networks. Thanks to this, speakers and vendors wishing to talk about their participation in the initiative will be able to use and spread their ready-made identities.
3. Emphasize interaction
Virtual events are often criticized for poor networking. Indeed, personal interaction has qualities that are difficult to "digitize". But the level and quality of an interaction that can be created online is quite high if it is built out separately.

By registering on a virtual platform, users can immerse themselves in the 3D space that is customized according to their company's and the event's needs, with different rooms and activities in each of them. With such possibilities, an online event appears to be very similar to an offline one.
4. Provide powerful customer support
Providing clear, competent support is one of the main measurements of an event's level of professionalism.

The widespread use of technology does not mean that all visitors to webinars and any other metaverse event have mastered these technologies. Technology itself does not work without errors. You need to make sure that every user understands the logistics of the event, such as what sessions there are, when and where they take place, or when attendees can expect a recording of an event.

Embedding a button leading to chat support is a good idea. Make sure your support team responds as quickly as possible so that every user will not be distracted from the event for a long time. Test the support button and chats and prepare some templates for responses.
5. Take full advantage of the platform you use
User expectations are such that despite the virtual environment, the event must conform to familiar analog formats. By creating it from basic elements, such as presentations, discussions and coffee breaks, you make the event recognizable to visitors.

But don't miss out on the opportunities that digital media provides. Ideally, don't just don't miss out, but reveal it to the maximum and make it an enticing feature.

Party.Space provides features that will help you make sure that your metaverse event won't look or feel like your daily morning meetings in Zoom. By revolutionizing the world of virtual events, Party.Space brings the feelings of the good old days back while staying remote. It's a convenient virtual space where you can interact with any guest, sip cocktails, and listen to DJ sets.

With Party.Space, you get all the tools you need for your next virtual or hybrid event in one place — like ticketing and registration, limitless event rooms, an expo hall, chat, networking, and more.

Check how companies leverage the metaverse for their events.
What are the Trends of Virtual Events in 2022?
With virtual events as an expected component of modern corporate life, we have prepared some trends for 2022 to keep your eye on.
1. More interactivity
In the last two years, metaverse event technology has come a long way. Since the start of the pandemic, many people have attended a huge amount of different online events, from daily meetings to corporate parties. That's why attendee expectations have grown.

People will expect more and more interactive virtual event elements and organizers have to ensure they're able to deliver immersive experiences that come close to equaling traditional in-person experiences. Mixology classes, quests, 3D products, etc., are indispensable components of a modern metaverse event.
2. All-in-one solution
The modern world of business requires scalable solutions that can address several challenges at once. The same is true for online event platforms. Metaverse event solutions need to provide all the tools for organizing an event. This way organizations can overcome the inefficiencies and challenges of relying on many third-party solutions.
3. Gathering event data
As we said earlier, virtual event technology makes it much easier to collect detailed data about your virtual event. Data collection processes will continue to improve, focusing more on providing features that enable event organizers to gain critical information. Organizers can use this information to improve future events and use what they learn about their customers to add value and make each event better than the previous one.
4. Deep personalization
Personalization is a trend in almost every software designed around interacting with others. Businesses turn to it because it helps to attract users' attention and encourages them to stay for a long time. Virtual events need personalization as well. One example of it is session tracks which allow you to tailor content topics to the interests of each visitor. This ensures a higher level of engagement for every participant and helps attendees get the most out of the event.
In a Nutshell
Metaverse events will only increase in popularity as they're the most cost-effective, efficient, and scalable way for businesses to connect with customers, partners, and employees. Still, organizing and hosting a metaverse event can be overwhelming.

Make the right choice with an all-in-one metaverse event platform that provides you with all the necessary tools and features to create a truly immersive and exciting virtual experience. Try Party.Space to experience all the benefits of a modern metaverse event.
Top 8 metaverse events in 2022
The metaverse is changing and evolving at a fast pace. Here are some events where businesses can learn more about this immersive technology and how to use it
By
Published: 02 May 2022
The metaverse is taking the world by storm and brings new opportunities for interaction and collaboration — and conferences are a great way to learn about the latest trends and technology.
Industry experts predict the metaverse could be worth $80 billion by the end of 2024. This is largely due to the buy-in from large tech companies such as Microsoft, IBM, Facebook, Google and Apple. The metaverse is expected to help grow the digital economy, and the tech world is looking to join the ride.
Learning more about the metaverse helps tech companies capitalize on this next level of the internet. And conferences provide the opportunity to learn about this technology and network with others. Here are some top metaverse events in 2022.
Metaverse Ecosystem Development & Investment Conference Asia Station
When: May 24-26
Where: Virtual
Cost: Free
Where to register: https://metaverse-club.net
Organized by the Metaverse Club, this conference features more than 5,000 technology, NFT, blockchain, entertainment and DeFi companies from global markets. Topics of discussion include Web 3.0, decentralization, NFTs, DeFi and blockchain games.
This online event will feature numerous speakers including:
Takayuki Suzuki, CEO of MetaTokyo
Guy Gadney, CEO of Charisma Entertainment
Isabell Welpe, professor of strategy for Technical University of Munich
Ben Nolan, founder and CEO of Cryptovoxels
Miko Matsumura, general partner for Gumi Cryptos Capital
On Yavin, managing partner for Cointelligence Fund
Augmented World Expo USA
When: June 1-3
Where: Santa Clara, Calif.
Cost: $695-$2,499
Where to register: https://www.awexr.com
This conference focuses on ideas relating to virtual reality (VR), augmented reality (AR), mixed reality (MR) and extended reality (XR). This community brings together technology providers with end users, startups with investors, and brands with developers.
AWE USA features all topics related to spatial computing. Other topics include enabling technologies such as AI, haptics, 5G and bio-interfaces.
Speakers include:
John Riccitiello, CEO of Unity Technologies
Bjorn Book-Larsson, vice president of product for Roblox Corp.
Pearly Chen, vice president of business development for HTC Vive
Thaisa Yamamura, head of business development for Sony
Hugo Swart, vice president and general manager for XR at Qualcomm
Christopher Lafayette, founder of Gatherverse
Steve Lukas, director of product management for Qualcomm
Techspo Expo Series
When and where: There are multiple U.S. locations for this conference, including:
Houston: May 25-26
San Francisco: June 2-3
Boston: June 13-14
San Diego: June 16-17
Atlanta: June 30-July 1
Los Angeles: July 11-12
Cost: $17-$297
Where to register: https://techspo.co
This conference brings together marketers, technology providers, designers, brands, developers and innovators to explore the latest technology trends.
There are also exhibitions to explore the next generation of technology, including mobile, AdTech, martech, internet and SaaS tools. Learn how these technologies can help your business grow.
https://youtube.com/watch?v=nxLdqfDObAk%3Fautoplay%3D0%26modestbranding%3D1%26rel%3D0%26widget_referrer%3Dhttps%3A
Metaverse Global Congress
When: June 28-29
Where: San Jose, Calif.
Cost: $849-$1,249
Where to register: https://www.metaverseglobalcongress.com
Learn about new opportunities for virtual meeting spaces, AR and VR learning, digital goods, virtual storefronts and more.
Keynote speakers include:
Aaron Brossoit, CEO and founder of Golden Shovel Agency
Toni Caradonna, adviser for Cross the Ages
Cix Liv, co-founder of REK
Nic Mitham, co-founder of Metaversed
Severin Wilson, vice president of global marketing for Epik
Michael Zoelzer, founder of Metacity
Siggraph 2022
When: Aug. 8-11
Where: Vancouver, Canada; virtual also available
Cost: $825-$1,155
Where to register: https://s2022.siggraph.org
While computer graphics and interactive technology play a large part in the metaverse, the biggest part is interaction. At Siggraph 2022, attendees will learn more about investing in this new market and hear some insights on collaboration and productivity.
Programs and events include VR theater, emerging technology panels, technical papers and "appy" hour. There are five interest areas to explore including art and design, gaming and interactive, new technologies, production and animation, and research and education.
This is an interactive conference with exhibitions. There are no speakers announced at this time.
Augmented Enterprise Summit
When: Oct. 18-22
Where: San Diego, Calif.; virtual pass also available
Cost: $299-$799
Where to register: https://augmentedenterprisesummit.com
Formerly the Enterprise Wearable Technology Summit, the Augmented Enterprise Summit is one of the longest-running events dedicated to business application of XR and other emerging technologies such as AR/VR/MR, sensors and wearables. Listen to industry professionals discuss training, the metaverse, remote work, creating 3D content for immersive apps, marketing and sales.
Speakers include:
Michael Braaten, technology engineering manager of Johnson & Johnson
Vince Herrera, digital value delivery leader for sales and marketing at Dupont
Kate Kressen, senior manager II of learning content design and development at Walmart
Benny Lee, global manager of digital design at Coca-Cola
Leslie Forsberg, system engineer tech fellow for digital maintainability and VR at Boeing
Stephen Paul, director of visualization and immersive technology at AECOM
David Dolenga, innovation group manager of immersive technology at GM
Immerse Global Summit
When: Dec. 5-7
Where: Miami, Fla.
Cost: $399-$1,299
Where to register: https://www.immerseglobalnetwork.com
This conference brings together companies to explore VR and AR. There will be more than 25 tracks to choose from, including growth strategies, digital marketing, AI, Web3 and edge computing.
Speakers are being finalized. immersive technology show, featuring
Other conferences to keep on the radar
As more tech giants adopt and embrace the metaverse, here are some other conferences to keep an eye on. Watch for more information about Microsoft Ignite, scheduled for November. Microsoft recently announced plans to acquire Activision Blizzard, positioning itself for the metaverse. The deal is expected to close in fiscal year 2023.
Meta — the parent company for Facebook, Instagram, WhatsApp and Oculus VR — announced it will not host its developer conference this year to concentrate on the metaverse.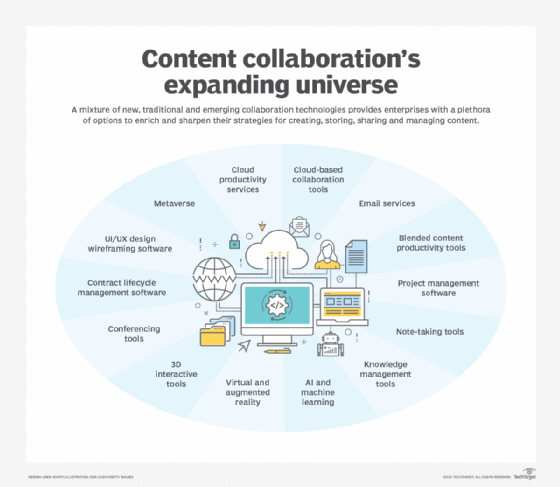 Metaverse Events; Discover The Best Events for Industry Professionals
Metaverse events are becoming an essential part of the new digital frontier. They take many forms but usually involve industry professionals coming together to discuss metaverse-related topics. Attending often means being part of the metaverse's large-scale development. Plus, you discover new hardware and software-based creations before anyone else. You'll soon find out what the best metaverse event options offer.
Upcoming Must-Attend Metaverse Events:
Add Your Metaverse Industry Event
Delving Into the Concept of the Metaverse
The idea of metaverse events might seem right out of science fiction. But make no mistake. The metaverse is "fully" in development and still highly experimental. But it's also open and available to anyone who wants to try it. Virtual reality (VR) headsets are the most apparent method to enter the metaverse.
But augmented reality (AR) devices and even items like game consoles, smartphones, and computers can access parts of it. When you log into the metaverse, you'll discover a barrier-free, virtual, 3D space. People from all over the physical world can come together in this virtual one. When they do so, they discover a new universe that's always on and allows for fully immersive experiences. It's essentially a parallel digital world that often mirrors the physical one.
The fact that physical limitations don't bind the metaverse can open up boundless possibilities. You can experience most of the best parts of the physical world within the metaverse. And it also allows you to experience fantastical locations and activities. You can explore different takes on the metaverse in the article "Metaverse Meaning; Different Ways of Defining the Metaverse".
What Defines Something as a Metaverse Event?
Metaverse events can be roughly defined as a gathering in which people discuss collaborations, discoveries, and work related to the metaverse. These events primarily center around current and future work on the larger metaverse regarding business opportunities. Buy-ins from companies like Google, Apple, Microsoft, IBM, and Facebook have demonstrated the importance of the metaverse. Experts expect it to be an $80 billion business by 2024. A single goal or subject can't define metaverse events. They're instead better explained by the event's intent and attendees. The gathering needs to involve the use and development of the metaverse to qualify as a metaverse event.
In some instances, this might mean discussions about upcoming software. Or an event might bring people together who might collaborate on a new piece of hardware. It could even be centered on the actual use of those platforms and their anticipated growth in the future.
Upcoming Metaverse Events for Industry Professionals & Enthusiasts
The continual growth of the metaverse ensures that events focusing on it will be increasingly common. As such, it's not always easy to know which events to attend. What metaverse events have something truly unique and vital to provide to professionals and enthusiasts alike? While new events constantly appear, the following metaverse event options are generally considered the best.
#VRARA Healthcare Forum
Date: 28 October 2022
Location: Virtual
As its name suggests, the VR/AR Association (VRARA) is dedicated to virtual and augmented reality. This international organization strives to develop an integrated approach between metaverse technologies and established business practices. The VRARA Healthcare Forum takes that concept and specializes in the metaverse's potential within healthcare. Health and healthcare impact almost every aspect of people's lives, which makes it a perfect match for the metaverse's wide reach.
The VRARA Healthcare Forum brings together some of the top leaders in the field to discuss the role of the metaverse in healthcare. This includes case studies, investment returns, and metaverse-related technologies' best practices. The event provides extensive presentations, talks, and even roundtable discussions. Industry insiders cut through the cliches and assumptions to provide real-world experiences with healthcare and the metaverse. This makes it one of the most crucial metaverse events for people in the healthcare industry.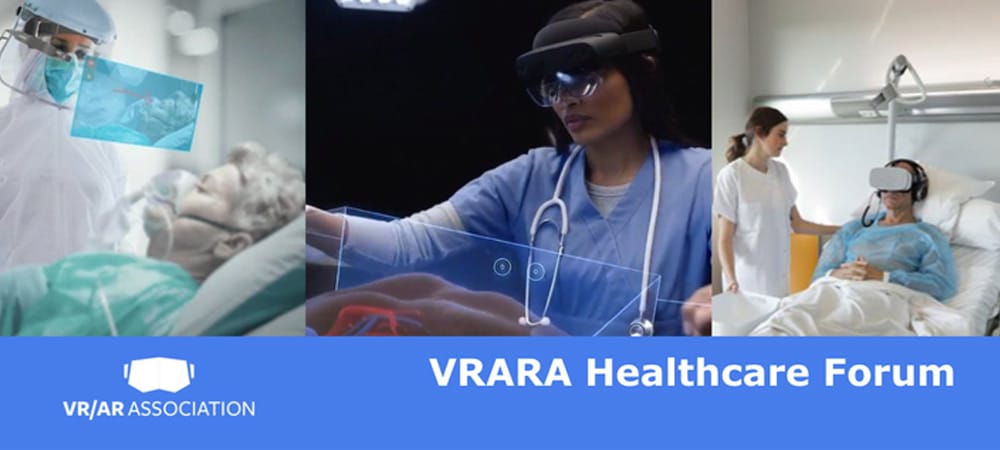 #Metaverse Summit – Virtual and San Jose– Economist Impact
Date: 26 u/i 27 October 2022
Location: San Jose California, USA
The Metaverse Summit is heavily focused on the role of mixed-reality experiences in creating economic and social value. The summit builds on a foundation based on a simple fact. The metaverse is an investment, and people want to maximize their overall return. How can a company accomplish that and successfully plan for a realistic timeline using cutting-edge technologies? How do companies effectively work with a business plan in a world with NFT crypto projects, exciting new hardware, and social trends that move at a rapid pace?
The Metaverse Summit brings in some of the earliest metaverse pioneers to answer all of those questions and more. As with most metaverse events, the summit is a valuable resource for people in any business that might benefit from the metaverse. But it's beneficial for people involved in transformative technologies, marketing, innovative design, brand engagement, and social media.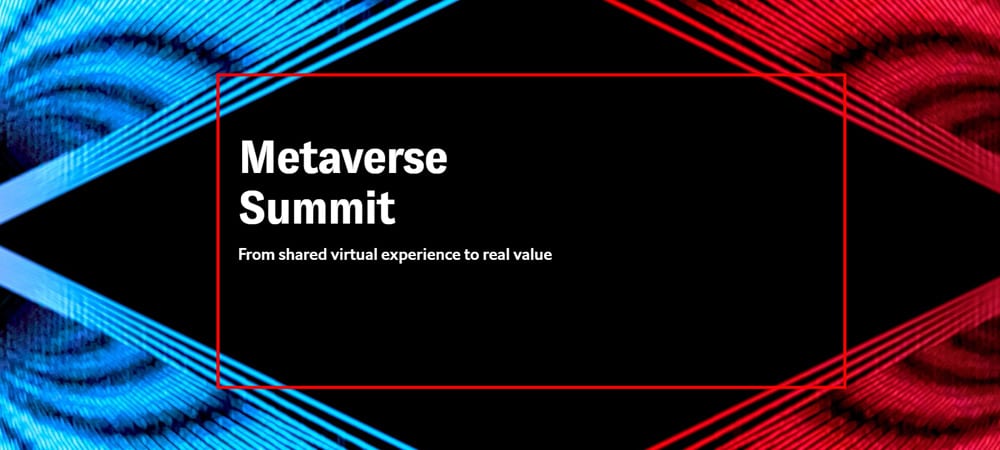 #Immersive Tech Week
Date: 28 November u/i 2 December 2022
Location: Rotterdam, The Netherlands
Immersive Tech Week is unique even in the context of metaverse events. The most exciting elements of the modern tech scene all converge within it. This includes everything from business to research and art. The event also provides ample opportunity to network and discuss these subjects with experts and enthusiasts alike. These discussions can take place within an informal context. But the event also hosts round table discussions and workshops.
All of these elements and more are available thanks to the hard work of the VRDays Europe Foundation. They've gathered over 150 experts in the extended reality industry for the event. These innovative minds are all ready to speak about their areas of expertise. But this is far from a passive experience. The event aims to foster dynamic experiences where everyone both learns and teaches. It's a chance for people to see innovative trends and help to shape their direction.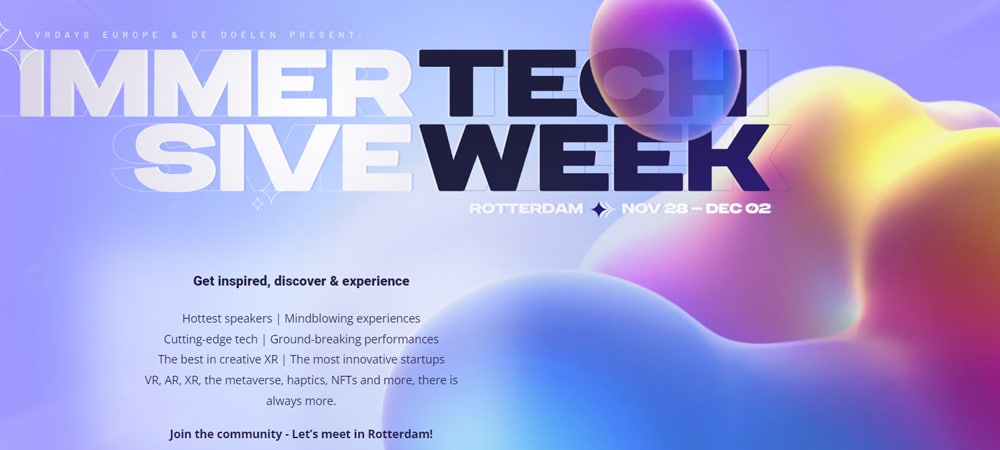 #Global Metaverse Carnival
Date: 6 u/i 8 December 2022
Location: Virtual
Metaverse events often put particular emphasis on specific topics. And this is especially true when specific organizations put events together. The Global Metaverse Carnival is highly focused on metaverse-related games, Defi, NFT, blockchain tech, cryptocurrency, Web 3.0, and similar content. As such, it's little surprise that their Metaverse Ecosystem Development & Investment Conference has a similar scope.
The event brings together over 5,000 companies related to the metaverse. That's a lot of companies, but it's proportionate to the attendee market's size. The event looks at the entire Asia Pacific market. This includes Japan, China, Dubai, South East Asia, and South Korea. Attendees can discover how these unique markets interact with the latest metaverse-related subjects. And it also provides a wealth of opportunities for business-related networking. This event is one of the most important in Asia for anyone interested in the metaverse or crypto-related subject matter.
Go to Global Metaverse Carnival
#IEEE Conference on Virtual Reality and 3D User Interfaces
Date: 25 u/i 29 March 2023
Location: Shanghai, China
The IEE Conference on Virtual Reality and 3D User Interfaces is an example of metaverse events with a special focus on 3D environments. The metaverse extends through a wide variety of different mediums. Everything from 3D vistas to NFT art is part of the metaverse. And it can be accessed through 2D mediums like laptops or game consoles. Some elements of the metaverse, like the metaverse blockchain, aren't even directly seen by most users.
The metaverse is a huge expanse where the same data can often be seen differently. But the IEEE conference focuses on the metaverse as a 3D environment. Convergence can provide exceptional expertise by focusing on one form of the metaverse. And the event also leverages the metaverse itself to provide its various services. The IEEE conference is provided entirely online so that anyone can join in.
Video: The other way: immersive VR storytelling through biking
Play
#AI VR Conference Japan
Date: 21 u/i 23 July 2023
Location: Kumamoto , Japan
The AI VR Conference is a metaverse event that seeks to bridge AI and VR. Both of these subjects have ties to the metaverse. And the three-day event aims to highlight enterprise usage scenarios where they all intersect. The conference's subject matter will encompass almost every conceivable take on these subjects. And the event's presenters come from a variety of research positions. Scientists, engineers, and researchers will come together in this event to educate and speculate on various topics.
The conference is the perfect place to learn how these topics work together. And it's also the ideal place for metaverse companies with a solid grasp of either VR or AI to discover the potential that comes from merging them. This makes it a perfect chance for two specialized fields with a lot of potentials to expand their horizons further.
Upcoming Metaverse Events (Exact Date Not Available Yet)
Below you find an overview of upcoming metaverse events, conferences, and summits. At the moment the exact dates or locations of these metaverse events are not available yet. When available, the dates and locations will be published.
#DeFiCon
Date: August 2023 (The exact date is not available yet)
Location: Bushwick Brooklyn, USA
Most people know that the metaverse can do a lot of good for many people. But DeFiCon takes that mission to the next level. It's one of the metaverse events that strongly emphasizes the ethos behind the metaverse, DeFi, and peer-to-peer crypto. As such, it's a non-profit endeavor with unsalaried founders. DeFiCon can be considered a charity fundraising event as much as a metaverse event.
DeFiCon members see peer-to-peer crypto as an evolution in human organization. Not just for specific people but for humanity as a whole. This philosophy also means that DeFiCon is open to anyone who wants to be a part of it. And attendees are all joined together under the larger banner of a shared cause. Furthermore, all proceeds from the event are donated to charity. DeFiCon inspires people to create a better future while improving the present.
Receive Metaverse Information & Related Topics
JOIN THE LISTYes, I would like to receive the newsletter from Metamandrill.com.
#Metaverse Summit Paris
Date: Summer 2023 (The exact date is not available yet)
Location: Paris, France
Paris is well known for its avant-garde fashion scene. As such, it shouldn't be a surprise to discover metaverse events with a similar tone. The Metaverse Summit brings experts and entrepreneurs from a wide variety of different fields together. Avant-garde technology, art, and fashion form part of the larger discussion. But all of this is within a more considerable debate of the metaverse. The summit often acts as a go-between to match up various talents and resources.
Investors and builders might meet up to discuss ideas. Or people with similar ideas might discover the perfect partnership. It also hosts several 2-day events. These include a variety of conferences and workshops by metaverse experts, and the event also invites people to participate in a Global Metaverse Startup Competition. This isn't just a competition between talented newcomers. It's also a chance to benefit from an advisory program while pitching new ideas.
Video: Metaverse Summit Paris Official Trailer
Play
#Global Metaverse Conference
Date: 2023 (The exact date is not available yet)
Location: Virtual
The Global Metaverse Conference is a three-day event held in Santa Clara. The famous convention center is transformed into a creative venue with metaverse solutions for vertical markets. The event's overall tone is highly targeted at professional and enterprise-level use of the metaverse. However, the full range of industries on display is truly remarkable. These markets covered in this metaverse event include healthcare, manufacturing, automotive, education, and healthcare.
The event is carefully designed to guide people through this wide range of topics, as solutions for each industry's challenges include security, AI and speech recognition, security, and data visualization. These subjects are covered within the larger context of platform-agnostic metaverse implementations. This frames the discussion around cross-platform solutions, which are shared between metaverse implementations as a whole. For example, new metaverse brands might simultaneously discuss how to leverage crypto projects within multiple platforms.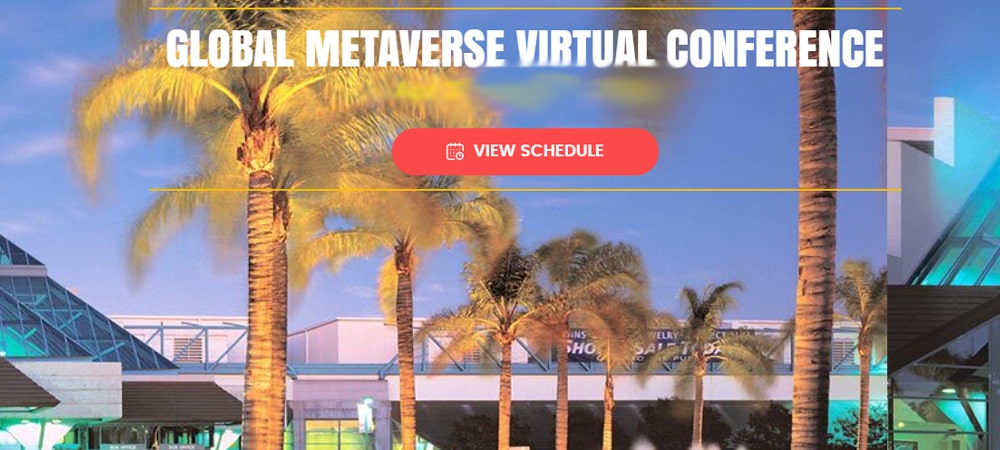 Go to Global Metaverse Virtual Conference
#On|Metaverse Summit Italy
Date: 2023 (The exact date is not available yet)
Location: Milan, Italy (The exact location is not available yet)
OnMetaverse Summit Italy is an Italian metaverse event with an International perspective. This particular event has a strong emphasis on business applications for the metaverse. But the event also considers the more significant impact of the metaverse on the world. How do companies adapt to a worldwide evolution that changes how people relate to every other aspect of their life? The summit seeks to answer that question by highlighting the experiences of people successfully working within this new sphere of influence.
Industry experts and representatives who've successfully leveraged the business side of the metaverse are coming together under a standard banner to discuss the state of the industry. Attendees can even attend training sessions from industry leaders. This is also one of the metaverse events that's held entirely within the metaverse. The Superstudio Cyberspace is a virtual convention center that anyone with a ticket can enter without needing special equipment.
Video: OnMetaverse Summit
Play
Go to IOn|Metaverse Summit Italy
#Immerse Global Summit Europe
Date: 2023 (The exact date is not available yet)
Location: Madeira Island, Portugal (The exact location is not available yet)
Immerse Global Summit Europe covers every aspect of the metaverse. But it's also distinct among metaverse events for emphasizing the atmosphere. The metaverse is host to a multitude of entertainment options. It has obvious business utility, but the metaverse is also an undeniably fun environment. The immerse Global Summit Europe builds on that idea by creating a joyful ambiance. It essentially runs throughout the coastal city of Funchal.
Attendees can enjoy the natural splendor of the setting. But there's also an abundance of great food, drink, and entertainment. However, don't be misled by the atmosphere. The immerse Global Summit Europe is also one of the more technically oriented metaverse events. It touches on some of the more advanced elements of XR design and strategy. The summit also looks into how the metaverse can impact everything from business to location-based entertainment and digital fashion.
Video: Immerse Global Summit Miami Teaser Video
Play
Go to Immerse Global Summit Europe
The Relationship Between Metaverse Events and Your Career Path
The various metaverse events typically put a heavy focus on entrepreneurs. The metaverse is a booming industry that's creating a multitude of new jobs. And these positions leverage a wide variety of different skill sets. If you're interested in the metaverse, you can almost always apply your passions to a related position.
For example, visually creative types can work as digital artists. And this holds for most people's creative passions. You can learn more about the exciting careers related to the metaverse in the article "Metaverse Jobs; Learn Everything About Your Career in the Metaverse".
Metaverse Events and Metaverse Standards Come Together Into a Singular Whole
Collaboration is a common theme among the various metaverse events. But you might be surprised to discover just how important this topic is to the metaverse. Many of the biggest names in metaverse development have come together under the banner of the Metaverse Standards Forum.
And in a sense, it's one of the larger metaverse events. The group aims to foster discussion and collaboration to enable metaverse systems to work together. You can discover the forum's history, operation, and goals within the article "Metaverse Standards Forum; What Is it & Why Is it Needed?".
Metaverse events have a lot to offer, no matter your particular focus. But one of the best things about the metaverse, and events, is that they're always growing. And you can be a part of that process.
Did You Like This Article About Metaverse Events?
You might also be interested in the following articles:
More Metaverse Related Tips
Metamandrill.com aims to provide explanatory and practical information about the metaverse and related topics. You can find all tips in the categories metaverse, explainers & guides, virtual worlds & games, devices and NFTs.