Web3 is going great: A chronicler of cryptocurrency's failings on the lessons of a very painful week.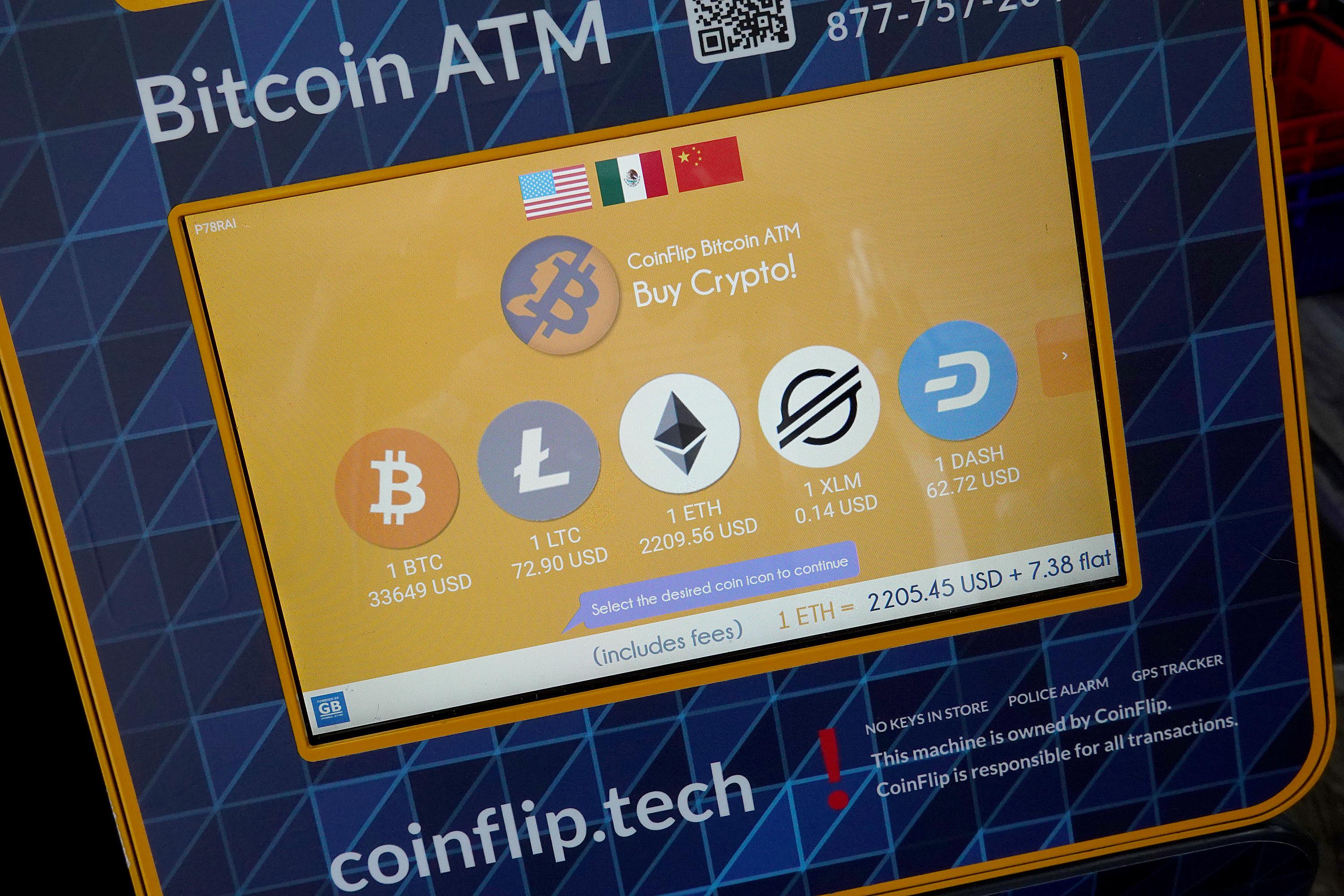 Web3 is going great: Who could have predicted this week's crypto crashes, which torched the values of much-used digital currencies like Bitcoin and Luna, halted trade in various blockchain networks, and wiped out some everyday users' life savings? Well, if you ask observers who've long been wary of cryptocurrencies' promises, it was all only a matter of time. One of the most prominent skeptics these days is Molly White, a software developer who started the blog Web3 Is Going Just Great last December as a "personal project." The blog has gathered a customizable, searchable timeline of disasters in the world of Web3—i.e., the supposed next stage of the internet meant to revolve around crypto-based systems—from February 2021 through the current day. White says she makes no money from the blog, and merely wishes to chronicle the disasters that befall Web3 systems on a regular basis, from mass monetary theft to collapsed projects to misinformation to scammy platforms with names like "Monkey Jizz." The site has gotten quite popular among fellow doubters, and White herself has become a go-to voice countering the hype coming from crypto companies and maxis—even collaborating with other crypto watchers on a project fact-checking mainstream publications' praise of crypto.
ADVERTISEMENT
On Thursday, as Bitcoin began a slow, wobbly upswing from its Monday crash, and Luna's and Terra's record-low declines persisted, I spoke with White over Zoom about why she started Web3 Is Going Just Great, what she makes of recent events, and how she became so skeptical about the promises of crypto. Our conversation has been edited and condensed for clarity.
Nitish Pahwa: You've said on your longer-form blog that you reached a moment with crypto when you realized this technology was "so harmful," and that you had to advocate against it. Was there a specific event that led you to that point?
Molly White: It was a gradual thing, where I was seeing more and more and more of the mainstreaming of the idea that crypto is an investment that average people—not speculative investors or people who deal with risky investments—should be downloading Coinbase and playing with this stuff day to day. There were a handful of projects that pushed me over the edge as far as deciding to create the website. For one: There was a group of young adult fiction authors who all decided to get together and create what was going to be an NFT project, where their fans could buy NFTs with the characters and write fanfiction. I remember being really shocked by that because that was sort of one of the first obvious cases where I saw NFTs being marketed to children, because young adult fiction authors have a fairly young audience. That was this red flag moment for me where I was like, OK, I should probably start talking about this a little bit more.
ADVERTISEMENT
When you started the blog, how soon did it take to catch on?
It took off fairly quickly. The website somehow ended up getting listed on Hacker News the same day I launched it. That got a decent amount of eyeballs on it, which was fortunate. People started to share it on crypto-skeptical subreddits. Then, as I started to talk about crypto and my concerns about Web3 more generally, the site started to get linked by news publications.
With that increased attention, were there a lot of crypto true believers who started coming after you?
I have gotten some of that, but it's not really been directed at the Web3 Is Going Just Great website. I feel like a lot of true believers have not been as hostile towards that website because when they see entries on that site, they're often about projects they're not involved with. So they can be like, Well, that one's scammy, but my project's fine. They see it as less of an attack on crypto or Web3 as a whole. But I do get pushback, especially on my blogging and on my general criticisms of crypto and Web3—it's more directed at my longer-form writing than the website itself.
ADVERTISEMENT
What's your method for keeping track of and aggregating all these news? Especially in weeks like this, when there are new stories and valuations almost every few hours.
It's kind of a hodgepodge. Early on, I source stuff proactively by looking at various crypto-specific publications. I was looking on subreddits, and there were other crypto skeptics I followed pretty closely. Now, as the site's become a little more well-known, people will tag me if they see a tweet about a hack or something—which is super convenient, because that takes a lot of the effort out for me. But I do still spend a lot of time reading crypto news and keeping an eye on stuff outside of that as well.
Have you met anyone who's been convinced by your work to stay away from crypto altogether, or a former crypto person who now renounces it entirely after reading your stuff?
Yeah, I have actually found a couple of folks like that. I was reading a Reddit post the other day and there was some commenter who specifically mentioned that they were in crypto and that they had read some of my work and decided they didn't want to be involved with that anymore, which is really cool to see. And I've definitely seen people who are involved with crypto or buying NFTs now starting to think a little more critically about it, which is really nice to see.
ADVERTISEMENT
What have you been making of the whole shitshow this week, with all the price crashes and blockchain holdups and stablecoins going haywire?
I think it's what a lot of us have been worried was going to happen. We've seen Bitcoin and some of the bigger cryptocurrencies do this before—this isn't the first time that Bitcoin has tanked, it sort of happens on a cycle at this point. If cryptocurrencies like Bitcoin and Ethereum start to drop … there are a lot of projects that are heavily dependent on their prices either staying fairly stable or continuing to go up. A lot of projects said they were doing great the past six months because they hadn't been tested by market uncertainty or drops in major players. So as we see things like Bitcoin start to come down, a lot of other stuff starts to tumble down with it.
When the Terra stablecoin de-pegged from the dollar, the sad side of it is that it had this period of time where people became overconfident in it and over-reliant on it. People were saying, "You can put your savings in these stablecoins and they'll be safe. That's where you can put them for low risk." It's like, no, this isn't like a bank account where if the bank goes under, you have FDIC insurance. There is nothing there if Terra falls apart.
ADVERTISEMENT
I actually saw a post on one of the crypto subreddits this morning saying to people, "Don't you dare use your emergency funds for this dip." Seems like good advice.
It's so bizarre to see people who have been talking up the Terra stablecoin, and then it totally falls apart and people are like, "Buy the dip." What? It's not supposed to have a dip. What are you talking about?
I think some people see this dramatic price volatility and think this is the time to buy in without considering the fact that this whole thing could be gone tomorrow, Terra could be at zero and there's no coming back from that. I'm just so baffled by the idea of buying a dip in a stablecoin.
I've been writing about Bitcoin for a while—I've never owned any—but from very early on, I remember it was supposed to be an alternative currency, a parallel network to the normal economy. But as we've seen, especially this week, there are so many crypto companies tied to the stock market. There are two country governments that have adopted Bitcoin as legal tender, even though it was supposed to be outside government grabs. I wonder if you have thoughts on that.
I think Bitcoin had these strong ideals from the beginning around working completely outside of government control, being this totally separate economy. I don't personally think Bitcoin ever really had the promise a lot of people believed it did as far as anti-surveillance and privacy and freedom from government intervention. A lot of people started out thinking that this could be a way to pay dissidents outside of government control.
The reasonable people in there have been like, no, that's not at all what happened. The things Bitcoin promised early on have just not come to be, and it's basically become the worst version of the traditional financial market in a lot of ways. But there are a lot of people who hold onto that ideology as though it is still achievable, which seems really confusing to me.
A big Web3 trend over the past few years has been the emergence of decentralized autonomous organizations, which use blockchain tech and networks and tokens to support virtual communities. Some spring from there into virtual reality. I know a few people say, "I don't like crypto, but there's this DAO that's really cool," or vice versa. I'm wondering how much you think the DAO concept can be separated from the crypto crashes and controversies.
The idealist in me would like to think that even if crypto crashes and burns and there's not a whole lot of monetary incentives to try to invest in it, people will maintain interest in these sort of democratic, self-governing online communities based around whatever their particular interest might be. DAOs have emerged around everything, and people might continue to interact the line in these tightknit ways without the addition of the currency.
I love communities like that, and I think there should be far more of those. But I do think that the addition of a crypto token to a DAO has a very negative impact, where there's suddenly this huge financial aspect to everyone's participation. So people have to weigh their decisions against the likelihood that they will cause the token price to increase, or that they have to try to engage in this sort of multilevel marketing to bring more people into the DAO.
I have my doubts around how popular things will realistically continue to be if the actual monetary incentive isn't there. I think that is a huge part of why a lot of people have engaged in this, but I would love to see that kind of community organizing continue on. I think voting is great. We can vote without crypto and keep doing this sort of democratic self-governance and community gathering, forming these small bubbles around whatever it is you're interested in. I just hope that the crypto piece sort of becomes less of a factor.
Top 10 Web3 Marketing Agencies
Here are the 10 best Web3 marketing agencies: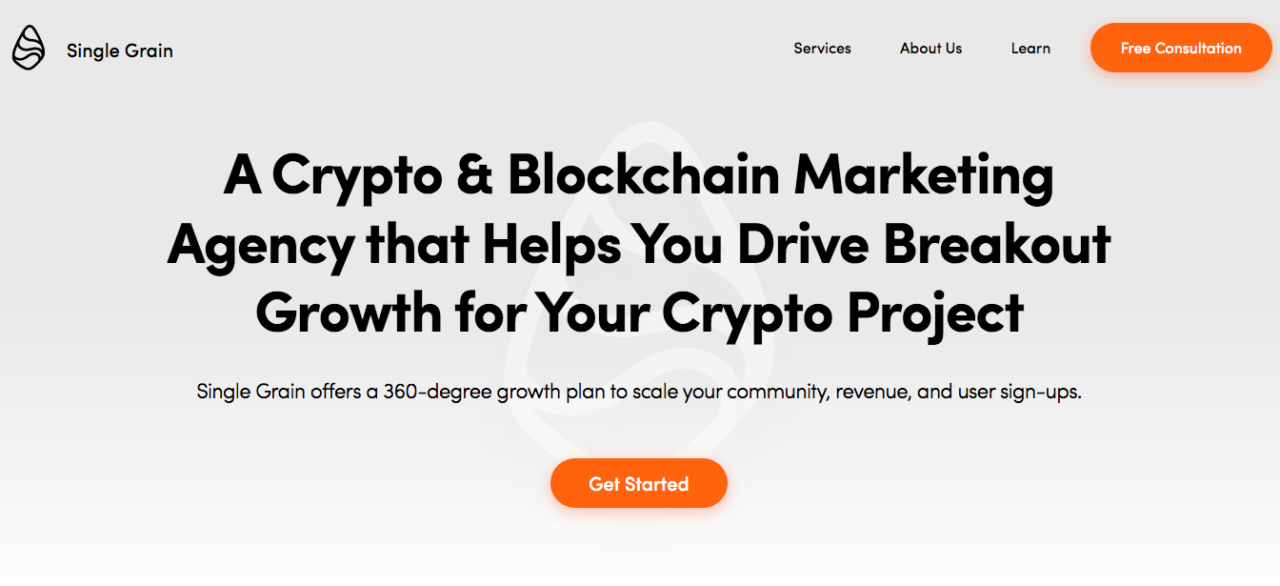 Single Grain is a leading full-service digital marketing agency and Web 3.0 marketing agency that can amplify your revenue with personalized blockchain marketing strategies.
They have major brands like Amazon, Uber, Airbnb, Bittrex, Polymath and Blockgeeks as their clients. A successful agency for over a decade, they offer web3 marketing from a proven team of web2 marketing professionals.
Their team of Web3 marketing specialists are experts in creating strategies for Web3 products. They have prepared award-winning digital promotion strategies for crypto brands and Fortune 500 companies.
Single Grain founder Eric Siu and team created and launched his own NFT project with the mission to build the next generation of entrepreneurs, so they have specific, hands-on experience.
Key Services:
Blockchain and cryptocurrency marketing
Token distribution strategy
Digital strategy
Decentralized autonomous organization (DAO) consulting
NFT marketing
Decentralized applications (dApps marketing)
Community building and management
Search engine optimization
Content marketing
Paid promotion
PR strategy and marketing
Single Grain specializes in:
Their core Web 3.0 specialization includes SEO, content marketing, community marketing, paid ads, infuencer marketing, and social media marketing.
Single Grain offers result-oriented NFT marketing strategies to grow and promote your NFTs on multiple platforms.
They are specialized in driving growth to your crypto and blockchain project through a 360-degree growth plan.
Their social media experts help you build and manage communities over platforms like Twitter, Facebook, and Discord.
They offer custom growth plans and strategies as per your project's goals.
Top Clients:
Amazon
Uber
Airbnb
Bittrex
Polymath
Blockgeeks
Pricing: Single Grain offers custom pricing plans as per your business goals and requirements.
Check out Single Grain founder Eric Siu's video How Web3 Will Change Marketing Forever:
https://youtube.com/watch?v=vXYLpHKOkPk%3Fautoplay%3D1%26enablejsapi%3D1%26origin%3Dhttps%253A%252F%252Fwww.singlegrain.com
Get My Free Web3 Marketing Plan
2) Coinbound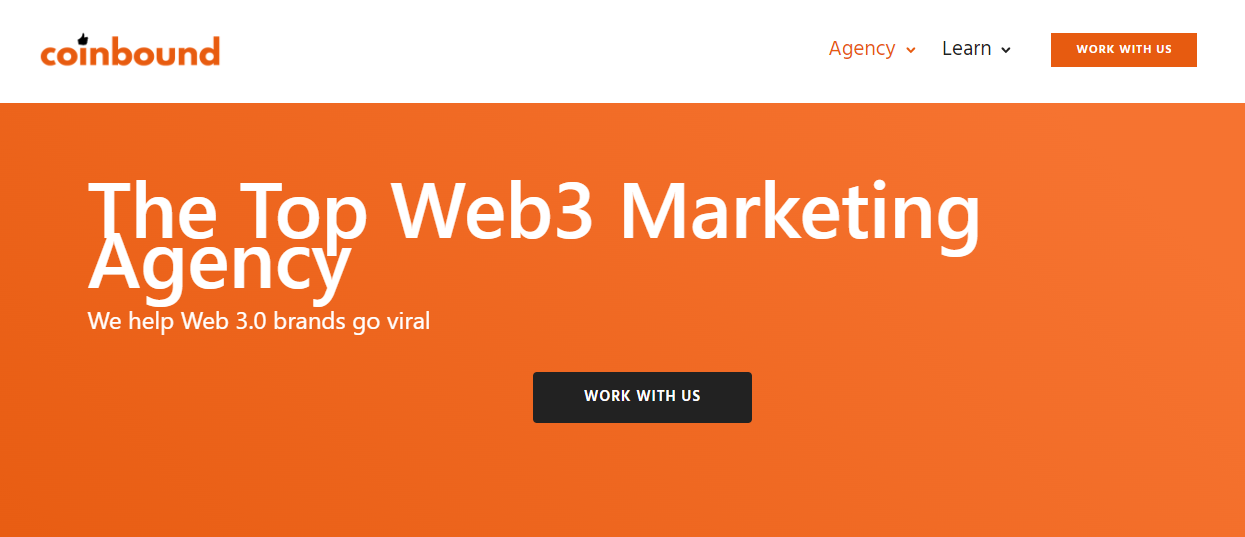 Coinbound is a crypto marketing agency based in Manhattan that helps blockchain and NFT brands grow online. They have created successful marketing campaigns for major brands like Cosmos, Voyager, CoinStats, and many more.
Coinbound was established in 2017, and since then, they have been helping crypto companies reach more customers.
Key Services:
Influencer and thought-leader marketing
Community building and management over Twitter and Discord
Web3 PR services
Content marketing
Search engine optimization
Web3 blog management
Coinbound specializes in:
Helping you rank on Google through Web3 search engine optimization (SEO) strategies.
They have a team of dedicated community management experts that help brands build and manage Discord and Twitter.
Coinbound has contacts with many large publishers, media networks and influencers that help you get coverage on multiple platforms.
They have a team of content producers that crafts blogs, pitches, announcements, press releases and other types of content for your crypto project.
Top Clients:
Cosmos
Voyager
Etoro
CoinStats
OKCoin
Metamask
Pricing: Coinbound offers custom pricing plans as per your business goals and requirements.
Dive Deeper: Influencer Marketing Strategy: The Ultimate Guide to Growing Your Business with Brand Partnerships
3) Crowdcreate

With more than five years' working in the Web3 industry, Crowdcreate is a leading crypto and blockchain growth marketing agency. It was also awarded as "Top Crypto Marketing Firm" by Forbes.
Crowdcreate has successfully helped over 500 crypto projects and helped them raise $250 million. It is an award-winning Web 3.0 company that develops high-end solutions for enterprise clients.
Key Services:
NFT strategy consulting
Community building
Influencer/PR marketing
Investor marketing
Web3 viral referral marketing
Social media marketing
Web3 community management
Token management
Crowdcreate specializes in:
Helping promote crypto and blockchain projects through influencer marketing on various social media platforms like Twitter, TikTok, and Reddit.
Their PR team can secure your brand coverage across multiple platforms.
They help build and manage crypto and NFT communities on different channels like Discord, Reddit, and Telegram.
As a Web3 marketing strategist, Crowdcreate helps you reach more customers through video marketing.
Crowdcreate has partnerships and collaborations with industry-leading influencers, media platforms, and content creators to offer exponential growth to your project.
They support almost every blockchain, including Solana, Ethereum, Binance, and others.
Top Clients:
Solana
Pastel
Casper
Cyperium
Bezant
Cointelegraph
Contact Details: +14245320801
Pricing: Crowdcreate offers custom pricing plans as per your business goals and requirements.
Dive Deeper: An NFT Marketing Checklist for Your Crypto Project
4) Blockwiz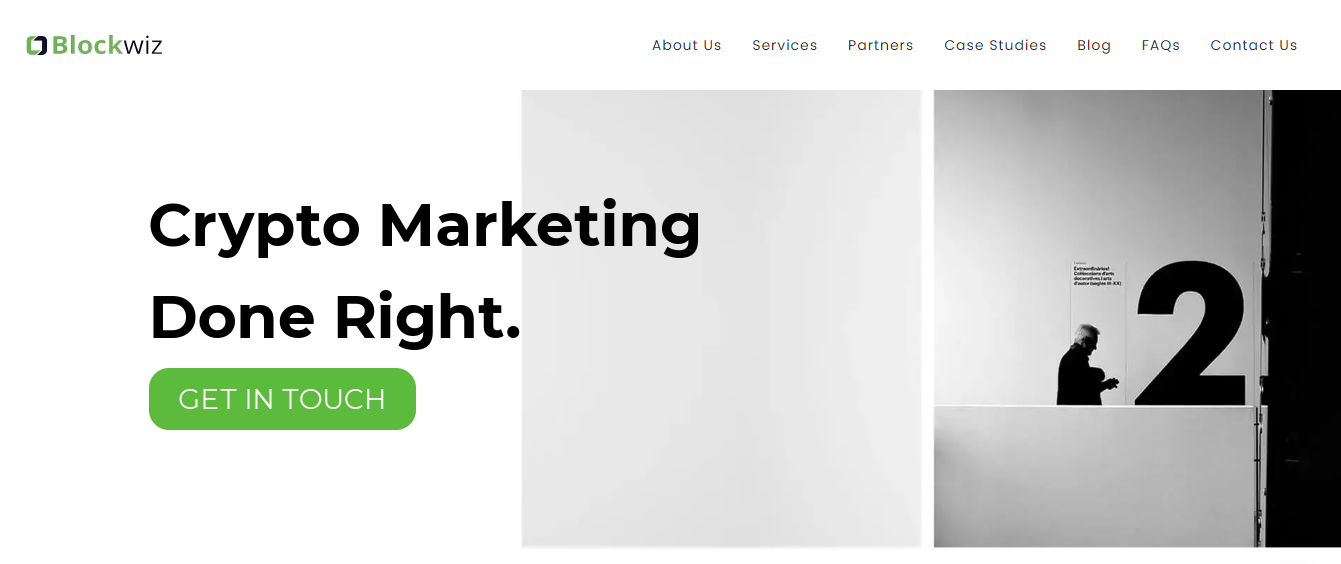 Blockwiz was established in 2019 to help crypto and blockchain brands. It has a team of 70 crypto experts, including writers, designers and strategists. They have successfully completed over 700 crypto campaigns.
They are an award-winning Web3 marketing agency that has won various awards like Global Business Awards by corporate vision, Best Crypto Advertising, and Top-Rated ICO Marketing Agencies by SoftwareWorld.
Key Services:
Discord and Telegram community management
Influencer marketing
Crypto content writing
Search engine optimization
PR and sponsored articles
Pay-per-click marketing
Crypto video creation
Blockwiz specializes in:
Showcasing your brand worldwide through PR and sponsored articles. It has a collaboration with AMB Crypto and Bitcoin.com.
Their SEO experts offer comprehensive crypto SEO audit, content optimization, and reporting. They determine the best keywords to target to bring a highly relevant audience for maximum conversions.
Blockwiz employs a team of professional video creators that are specialized in creating videos for the promotion of crypto and blockchain products.
Their team of social media professionals determine the best social media platforms to promote your blockchain products. They manage your social media profiles to grow your online communities for higher customer engagement.
Blockwiz helps you sell your NFT projects by promoting them over social media platforms using top industry influencers.
They have a team of expert PPC professionals who aim to double your conversion rate and reduce your cost per click.
Top Clients:
Uniris
Sugar Bounce
Mosaico
Hubble
Cobidex
CryptoBiz
Contact Details: info@blockwiz.com
Pricing: Blockwiz offers custom pricing plans as per your business goals and requirements.
Dive Deeper: How to Promote Your NFTs the Right Way
5) Lunar Strategy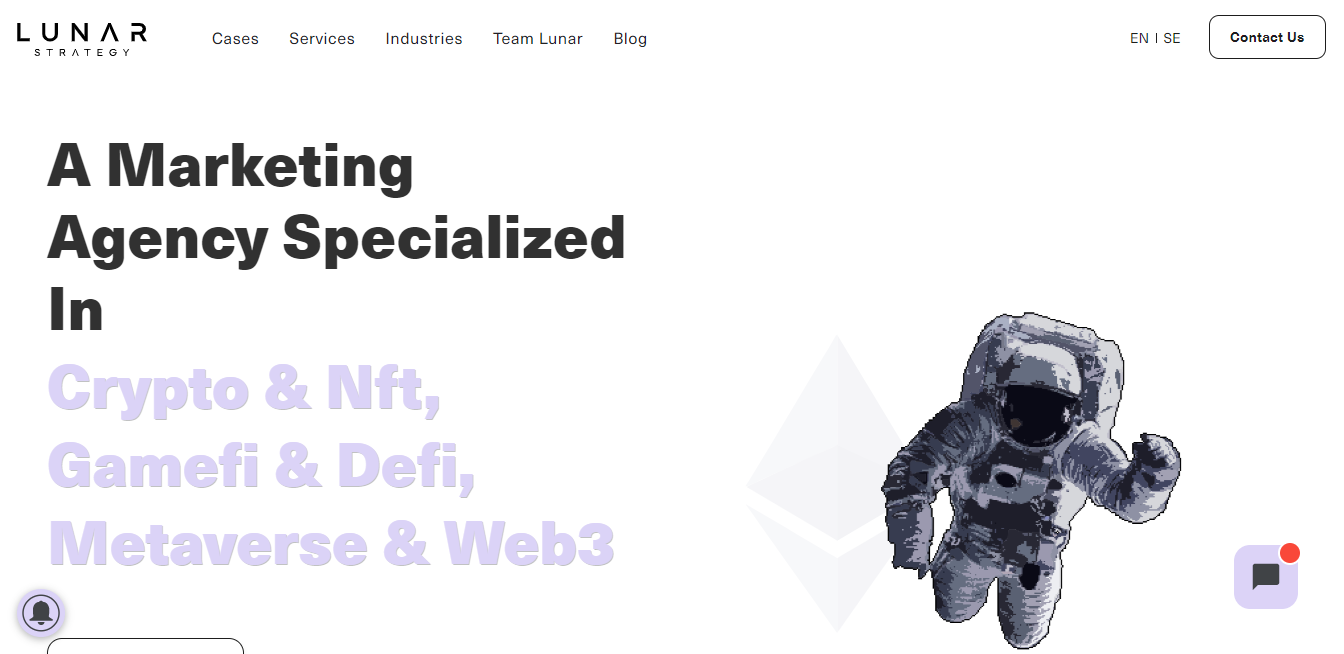 Lunar Strategy is a marketing agency that specializes in Metaverse and Web3. They were awarded as the Top-Rated ICO Marketing Agencies by Software Word and Top Blockchain Development Company by GoodFirms.
They are a Google Partner Web3 marketing agency that has a team of crypto enthusiasts that are always up to date with new market trends in the crypto and blockchain world.
Key Services:
Paid ads marketing on LinkedIn, Twitter, Google, Instagram and others
Social media management
PR and influencer marketing
Community building
Search engine optimization
Content marketing
Landing page optimization
Exchange listing
Lunar Strategy specializes in:
Getting more leads to your crypto and blockchain projects through paid ads on Google and other leading social media platforms.
Lunar Strategy regularly engages with your audience on social media platforms like Facebook, Twitter, and LinkedIn by posting quality content.
They help you grow your Twitter, Discord, and Telegram community by engaging with the audience, posting Q/A sessions, and scheduling giveaways.
Their PR marketing team can help you publish sponsored articles, press releases, and announcements about your crypto project.
Their exchange listing team also helps you boost your newly created cryptocurrency by listing it on online platforms such as Crypto.com, Binance, and Coinbase.
They offer seamless email marketing strategies to reach your target audience.
Lunar strategy offers landing page optimization services to drive relevant traffic that converts to sales.
Top Clients:
JPEGaault
Dark Frontier
Nobility Token
Kounotori
PixelPix
Game Starter
Contact Details: info@lunarstrategy.com
Pricing: Lunar Strategy offers custom pricing plans as per your business goals and requirements.
6) Ninja Promo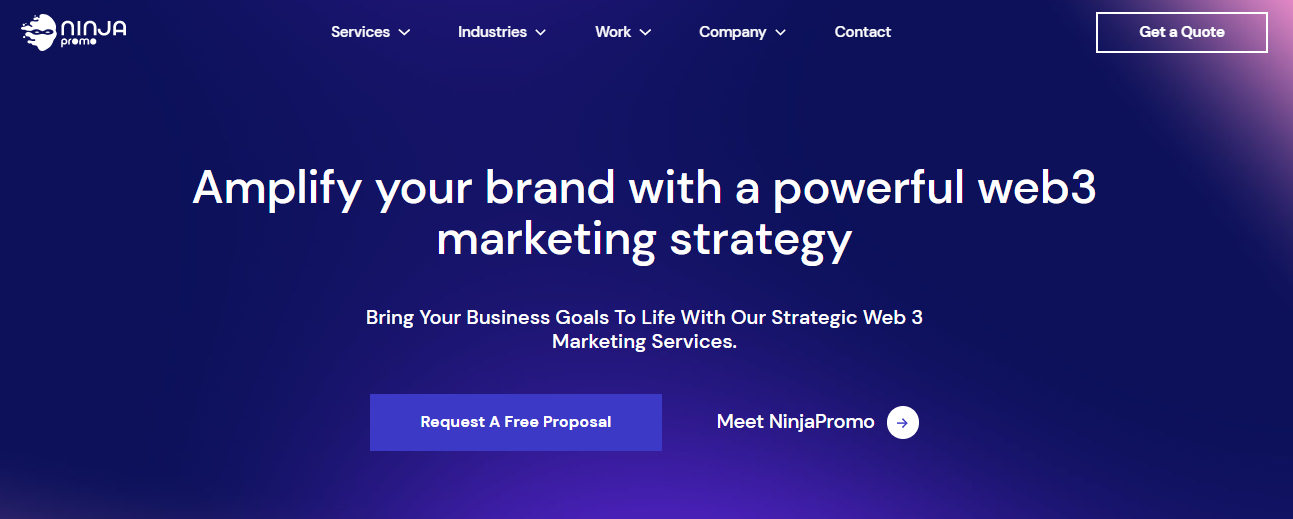 Ninja Promo is a Web3 marketing agency specializing in the effective brand positioning and messaging of your Web3 products.
They are an award-winning Web3 agency named the #1 ICO Marketing Firm by GoodFirms, Top ICO Agencies by SoftwareWorld, and Best Fintech Marketing Agencies by Fintech Drift.
Key Services:
Search engine optimization
Influencer marketing
Product coverage in leading crypto publications
Full-stack blockchain development.
Paid social marketing
Video production
Mobile app development
Organic social media promotion
Ninja Promo specializes in:
Their social media management team offers 24/7 community management to engage prospects for maximum engagement.
Ninja Promo creates a complete marketing roadmap for your crypto products for better brand positioning.
They offer fully-managed influencer partnerships to negotiate influencer contracts to drive the best ROI from influencer marketing campaigns.
Their strategic SEO services establish your brand as an authority in your niche. They offer effective SEO brand positioning to reach prospects at every stage of the buyer journey.
Ninja Promo has expertise in Fintech PR and crypto PR. They have an extensive network of crypto publications for NFT brand promotion.
They also have experience developing mobile apps and tailored blockchain development solutions that are highly functional and secured.
Top Clients:
Trust Wallet
Dash
Dopamine
BlankSocial
BitForex
IronFX
Contact Details: carreers@ninjapromo.io
Pricing: Ninja Promo offers custom pricing plans as per your business goals and requirements.
Dive Deeper: What Facebook's "Meta" Rebrand Means for Marketers
7) Rehab Agency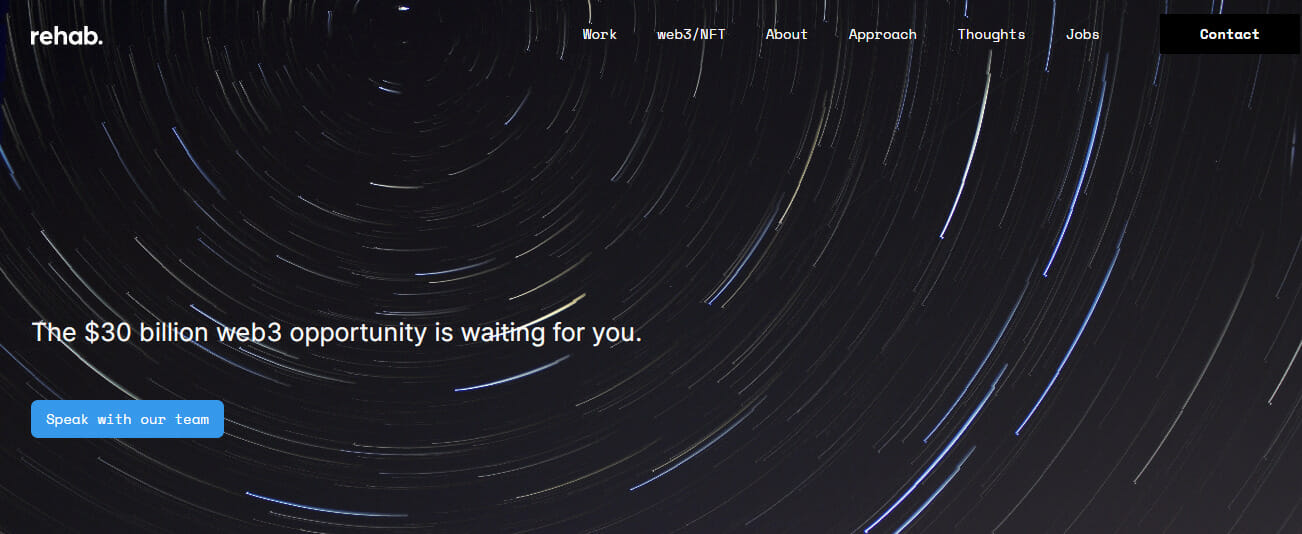 Rehab Agency is a group of web marketers who were brought together by a common interest in helping others. They are on a mission to help crypto and blockchain businesses grow their projects online.
This Web3 marketing agency has professional crypto experts dealing in cryptocurrencies, NFT and ICO marketing solutions. Their team is building metaverse projects for leading brands like Nike, Fox and Facebook.
Key Services:
Consumer research
Strategy planning and execution
Content creation
Community building
Web3 application design
Social media management
Rehab Agency specializes in:
Helping you with consumer research, road mapping, rapid prototyping, and building a Web3 stack strategy for your crypto products.
They have a user research and testing team to help you design purposeful solutions in Web3/metaverse.
Rehab Agency specializes in creating content that helps you acquire leads from channels like social media posts, sponsored articles, and website blogs.
Their Public Relations (PR) team has contacts with industry-leading media platforms and influencers to help you acquire trusted and relevant media mentions.
Their social media management team for community building on leading crypto platforms such as Twitter and Discord.
Top Clients:
Amazon
Facebook
Warner Media
Nike
Spotify
Vodafone
Contact Details: hello@team.rehab
Pricing: Rehab Agency offers custom pricing plans as per your business goals and requirements.
Dive Deeper: 14 Effective SEO Techniques to Drive Organic Traffic in 2022
8) Kryptonite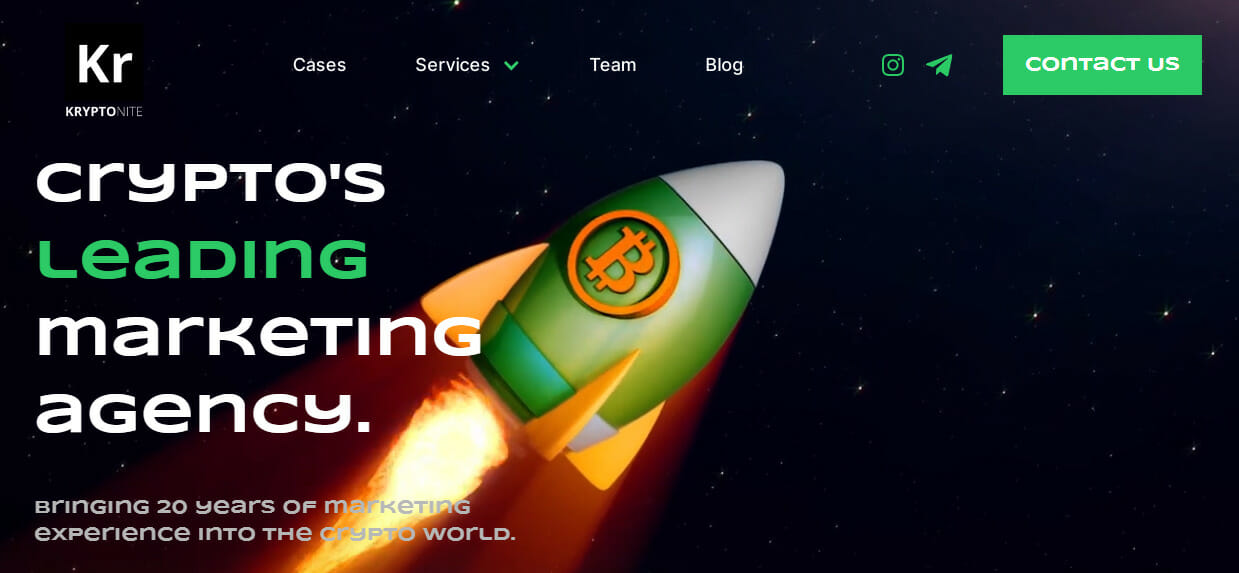 Kryptonite is a specialist token and NFT marketing agency that is aimed at helping Web3 brands. They have more than 20 years of experience in the crypto and blockchain world.
Kryptonite has completed over 190 crypto projects and has a 20% engagement rate for its campaigns.
Key Services:
Social media advertising
Content marketing
Display advertising
Guerilla marketing
Influencer marketing
Website design
Storytelling
Kryptonite specializes in:
They have an experienced team of paid ad professionals to run ads on leading crypto, NFT, and DeFi platforms. They specialize in running Quora, LinkedIn, and YouTube ads.
They offer mass marketing that enables crypto brands to send millions of messages to crypto and NFT followers on social media platforms, including Instagram, Twitter, and Discord.
They have a dedicated team of content and video creators that help you stand out from the crowd.
They will help you manage all your social media communities to drive the highest levels of engagement.
Kryptonite has collaborations with leading crypto outlets from Yahoo Finance to Cointelegraph.
Top Clients:
Gotbit
Binance
BitMart
Hacken
Cointelegraph
Yahoo Finance
Contact Details: info@kryptonite.agency
Pricing: Kryptonite offers custom pricing plans as per your business goals and requirements.
Dive Deeper: How Social Tokens Will Change Marketing Forever
9) CryptoArmy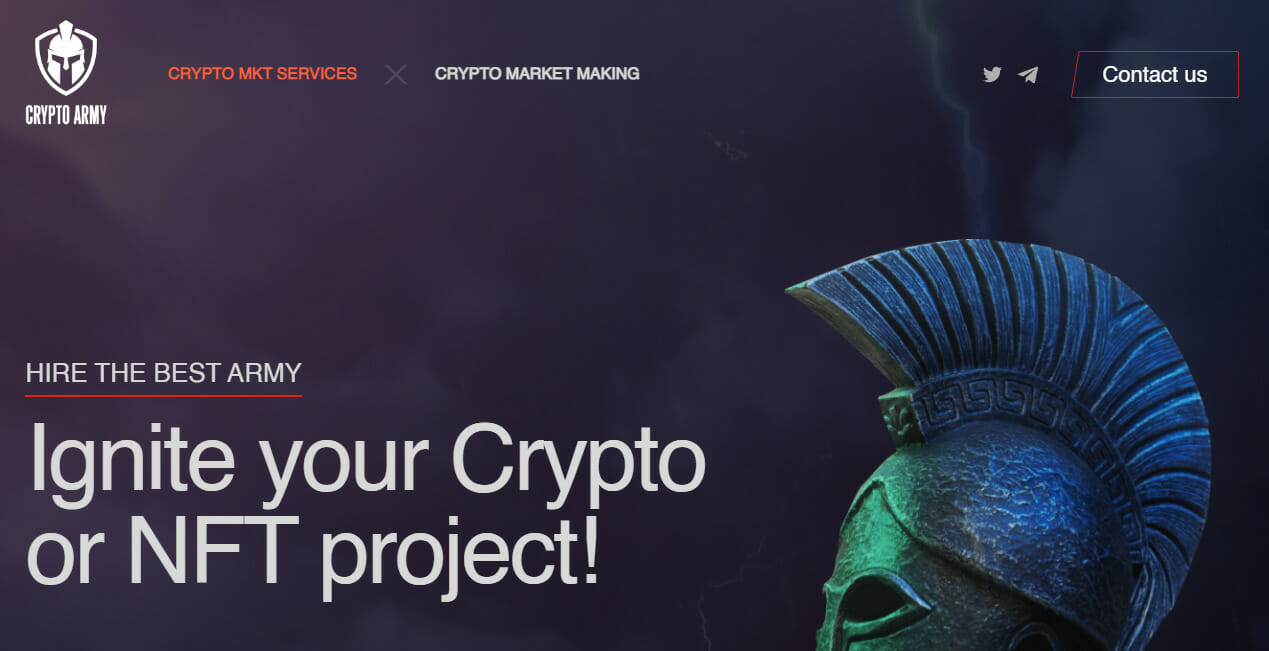 CryptoArmy is another popular Web 3 marketing agency with a proven track record of success in helping its clients achieve their marketing goals.
Their DeFi marketing experts are well-versed in the latest Web3 marketing trends and can tailor their services to meet the specific needs of each crypto client. Whether you're looking to increase brand awareness, drive traffic to your website or generate leads, CryptoArmy has a solution to meet your business goals.
Key Services:
NFT and crypto promotion strategy
Crypto community management
PR marketing
Social media management
Guerilla marketing
Content creation
CryptoArmy specializes in:
They provide a full range of crypto marketing services to support crypto and blockchain businesses in growing their brands and increasing their traffic, sales and conversions.
Their crypto team can help you with content creation, community management, community development, and influencer marketing.
Their SEO experts have the skills and experience to help you drive traffic to your website and make the most out of your presence on the internet.
CryptoArmy is experienced in leveraging guerrilla marketing tactics such as bounty competitions, sales agents contests, Shiller contests, and mailing campaigns to help your blockchain project successfully stand out.
They are experienced in building attractive, user-friendly web interfaces and landing pages for paid ad promotion across several cryptos and NFT platforms.
Top Clients:
EcoWatt
Afrostar
ESP Coin
Nexxt Gaming Guild
Decentralized Metaverse Mall
Cyborg86 NFT
Contact Details: info@cryptoarmy.agency
Pricing: CryptoArmy offers custom pricing plans as per your business goals and requirements.
Dive Deeper: Best DeFi Marketing Agency: Top 8 Choices for 2022
10) ICODA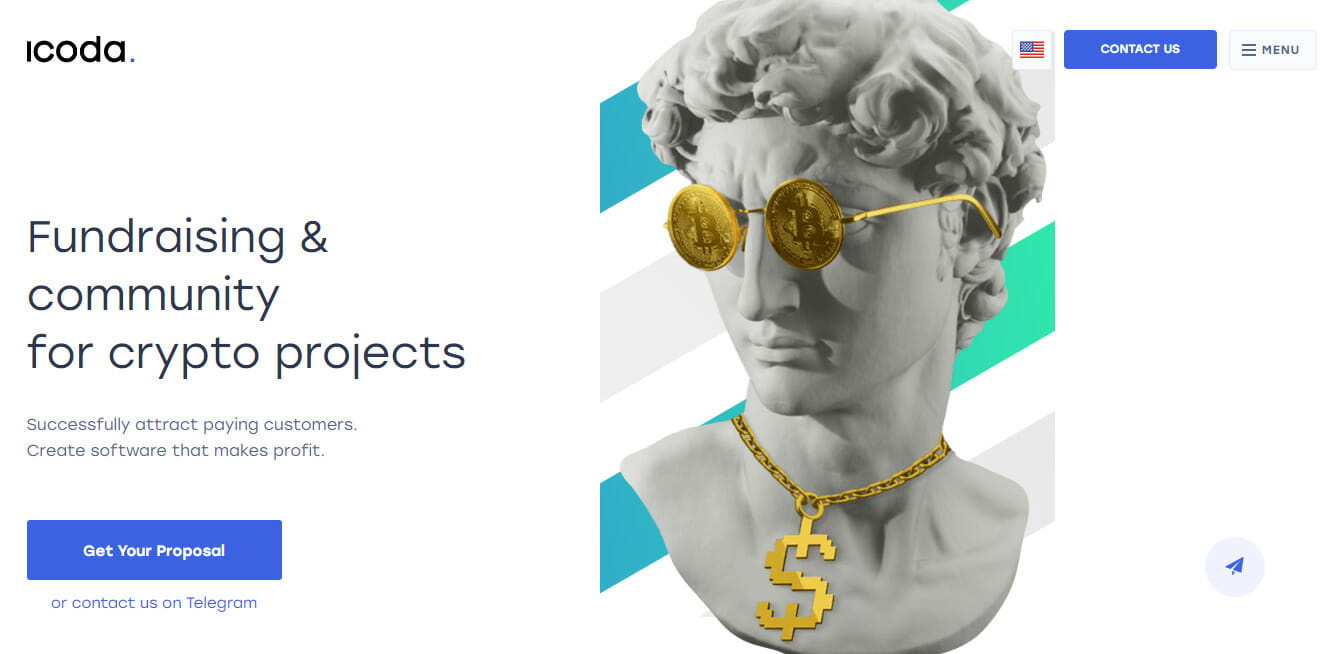 ICODA is a leading crypto marketing agency that has several years of experience in handling Web3 brands. They have helped a wide range of blockchain and crypto-related businesses to attract paying customers successfully.
They are passionate about the potential of the blockchain and crypto industries, and they are committed to helping their clients succeed in this space.
Key Services:
NFT promotion and consulting
YouTube and Twitter influencer promotion
Top listings on leading crypto ranking platforms
Cryptocurrency/blockchain website creation
Blockchain PR marketing
White paper development
Telegram promotion
ICODA specializes in:
ICODA has hands-on experience in crypto marketing. They have a portfolio of hundreds of projects, including many successful ICOs.
They have a team of social media experts to help your brand get noticed by building a community on Twitter and Discord.
ICODA helps you attract funding for your crypto business by listing your token on different crypto websites like CoinMarketCap and CoinGecko.
Their crypto PR team is specialized in creating personalized PR strategies for your project.
They help you promote your NFT projects through paid advertising, social media marketing, PRs, and video creation.
Top Clients:
Huobi Global
Bosagora
Infinito Wallet
Paycent
SwissBorg
PrimeXBT
Contact Details: post@icoda.io
Pricing: ICODA offers custom pricing plans as per your business goals and requirements.
Dive Deeper: How Blockchain Can Be Instrumental in Preventing Digital Fraud
What Is a Web3 Marketing Agency?
Web3 is the latest generation of the Internet, evolving from the previous iteration by incorporating new technology and concepts with a focus on creating a stable and robust infrastructure for all of us.
Web3 puts the power in the hands of individual entities instead of big-shot corporations.
Here's a brief look at the difference between Web 1.0, Web 2.0 and Web 3.0:
Web 1.0 (1989-2005) is a read-only web where people can read information written on websites.
Web 2.0 (1999-2012) is a read-write web where people can read and write content on websites and applications.
Web 3.0 (2006-ongoing) is a read-write-interact web (powered by artificial intelligence) where people can read, write and interact with content, including 3D graphics, on websites and apps.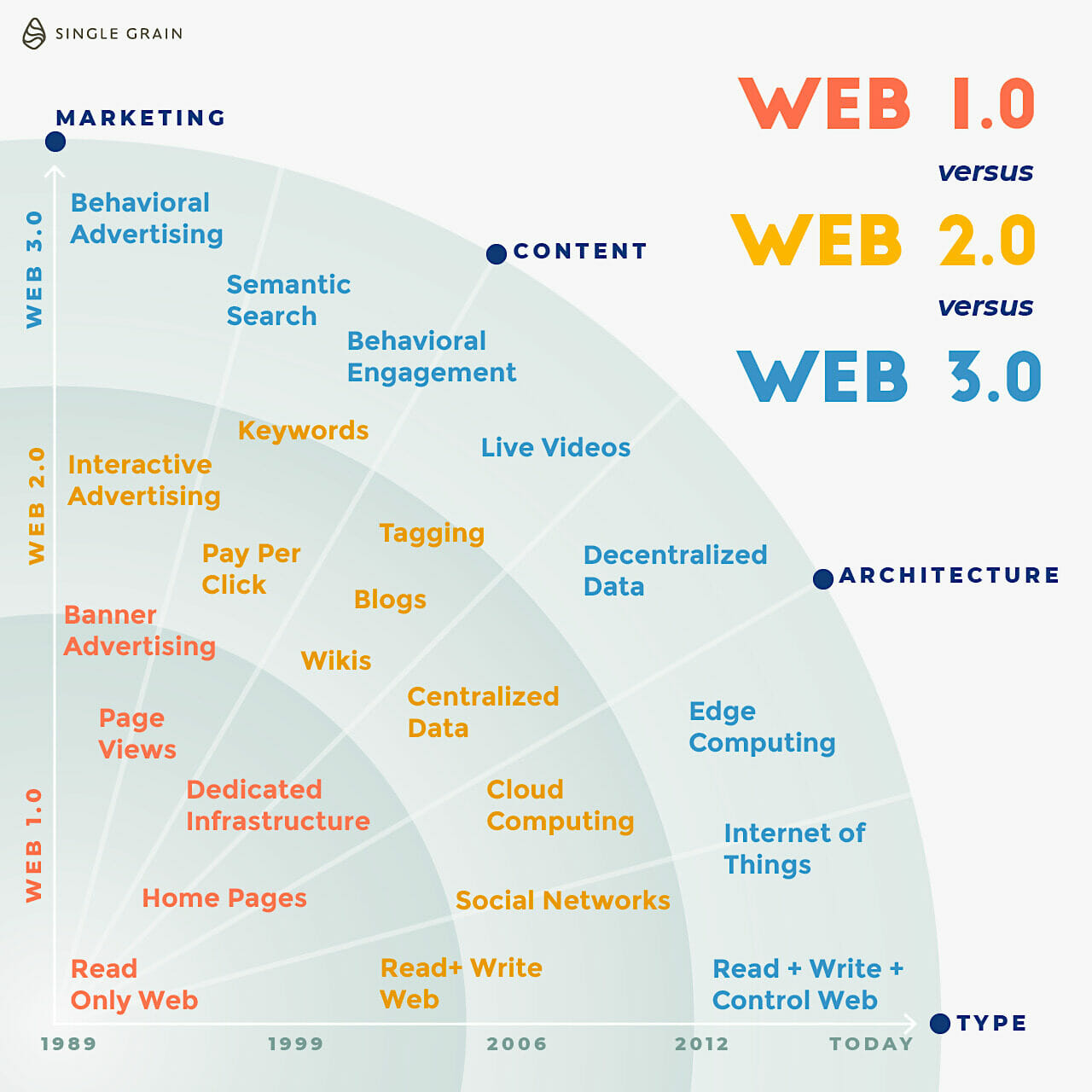 Web3 technologies help people have more control over their data, creating a decentralized version of the world wide web. It offers more data security and privacy, which keeps the risk of hacking at bay.
Consider these stats:
81% of consumers agree that Web3 is a technology focused on making their lives happier and improving overall well-being.
The concept of Web3 is gradually gaining popularity in the market and getting around 195,000 Google searches per month.
Moreover, over 438 Web3 companies have raised around $4.5 billion in funding.
Because so much about Web 3.0 is new and unfamiliar, it's a good idea to hire an agency that understands this new space well.
A web3 marketing agency is a company that specializes in the digital promotion of blockchain-based products and services to create high-value web3 marketing campaigns.
To reach your project goals, such as driving more traffic, converting more subscribers, and generating more monthly recurring revenue, a web3 marketing firm leverages various strategies such as search engine optimization, PR marketing, search engine advertising, influencer marketing, etc.
Need a Web3 refresher? Check out this epic guide:
What Is Web 3.0? The Future of the Internet
What Are the Advantages of Using Web3 Marketing Agencies?
Here are a few advantages of leveraging the power of Web 3 agencies.
Professional Guidance
A Web3 marketing agency team thoroughly understands your business goals and suggests a relevant and competitive crypto promotion strategy to reach your target audience in the shortest possible time. When you work with NFT and crypto marketing experts, you receive professional guidance to build a passionate community around your crypto products.
Better Understanding of the Latest Market Trends
A Web3 marketing agency excels in promoting crypto and NFT businesses as they have a good grasp of all the latest blockchain marketing trends. More importantly, you want an agency that specializes in web3 marketing from a proven team of web2 marketing professionals.

Minimized Overall Costs
When you decide to take your brand's marketing into your own hands without actual tactical knowledge, you'll spend a ridiculous amount of money making mistakes. When you hire an expert team to run your marketing campaigns for you, you'll rest easy that they'll get the job done faster, more effectively and at a lower cost.
Higher Return on Investments
Web3 marketing professionals know their industry inside and out and leveraging tried and tested creative promotional tactics helps you reach the right audience. Thus, they can amplify your business' scalability while maintaining a high ROAS on ads and ROI in general.
Reliability & Transparency
Web3 marketing agencies send you regular work reports to keep everything transparent. You get a complete idea of where your money is being spent. You can also reach out to your account manager wherever there is confusion or you have questions. Therefore, Web3 agencies offer reliable service with complete transparency.
Embrace Change
Web3 marketing firms work with multiple clients at once. Hence, it becomes easy for these agencies to evaluate your business type, nature and industry, along with recommending specific changes that will enhance the competitiveness of your marketing campaigns.
Easy Access to Great Tools
Marketing agencies that specialize in web 3.0 have access to intelligent marketing automation tools to promote your crypto and NFT projects. You don't have to spend extra money to subscribe to these tools because everything is included in the agency pricing. Hence, you can benefit from top automation tools at reduced pricing when you partner with a leading Web3 marketing company.
Results Tracking
You require precisely organized reports to make informed decisions. Web3 marketing firms provide comprehensive reports to ease the process of framing competitive strategies that will help you achieve your business goals and stay ahead of the competitors.
Save You Precious Time
Without professional help from Web3 marketing firms, you will waste a lot of time trying multiple marketing strategies to figure out which works best for your business based on its nature, scale and industry.
But with the help of an agency, you will directly implement the best strategy because they thoroughly understand your business and will recommend a tailor-made competitive plan for your business.
Provide Quality Service
Reputable web 3.0 agencies have typically been in the market for years and their team of highly qualified professionals knows the market dynamics thoroughly. An agency performs various functions for your brand, including:
market size mapping and market growth forecasting
analyzing the latest market trends
customer segmentation
conducting in-depth competitor analysis
thoroughly understanding the business environment
executing a competitive strategy that offers the best results
Dive Deeper: The Ultimate Guide to Blockchain Digital Marketing and Cryptocurrency
How to Choose the Best Web3 Marketing Agencies
Every marketing agency is different and, thus, not every one will be ideal for your brand or crypto project. Some may specialize to narrowly, or some may be too out of your budget. Hence, you must always pick a digital marketing agency that aligns with your business goals.
Here are a few common factors to keep in mind while selecting the right Web3 marketing agency for you:
Thoroughly Research the Agency
Before signing with any agency, it is essential to conduct in-depth research about that agency regarding their performance and results for their previous clients, their client testimonials, and how they have helped their clients achieve their business goals.
In addition, take a look at their case studies or check the ratings and reviews on websites like Clutch or G2. Before deciding to go ahead with any agency, check their authenticity and legitimacy.
Ask Questions
Communicating with an agency about the problems you face and your expectations in terms of deliverables is crucial. While speaking with them, make sure they have the skills and experience to help you achieve your business goals.
Consider asking a few questions, such as:
Which are the ad platforms you use?
Which tools do you use to measure progress?
What are the various modes of communication?
Do you have a team of in-house professionals or do you outsource the work to freelancers?
How do you select KPIs?
Do you assign a dedicated account manager?
Answering the above questions will help you gauge the experience of the Web3 marketing agency.
Understand the Payment Structure
Understanding the payment structure of any agency is probably the most vital aspect you must consider. Every agency charges on a different pricing model. Some might charge based on projects, some on KPIs, while others charge based on performance.
Be sure that you are totally clear about the campaign set-up fees and monthly account handling fees. In addition to that, insist on clear communication about any hidden costs.
Verify the Agency's Transparency & Authenticity
Your agency should offer you easy-to-understand reports related to the performance of your campaigns. They should submit clear and accurate information using KPIs to measure the overall performance of your advertisements.
You must be attentive and alert to find any loopholes in the suggested reporting system offered by the agency. If you find any loopholes or vague wording, look for another web3 marketing agency.
Full Stack vs. Specialized
Knowing that the agency you are considering is specialized or full-stack competitive is vital. Such an agency will specialize in a smaller selection of skills. In contrast, a full-stack marketing agency will know the back and forth of efficiently marketing your offerings on the web.
Consider Multiple Options
It is always a good idea to consider a few options instead of going with the agency that someone in your close circle recommended. Ask for quotes from multiple agencies, their reporting systems, the charging models, and all the other essential aspects that will determine your online brand's success.
Ready to Hire a Top Web3 Marketing Agency?
Selecting a top Web3 marketing firm will give you a competitive edge in your target industry. You should always be proactive in choosing an agency because the marketing investment you will be making will last for years.
Need help promoting your crypto products? Get in touch with Single Grain! Our expert crypto marketing professionals will help you get the best returns on your marketing investment.
If you need help promoting your business or crypto products by partnering with a top Web3 marketing agency, Single Grain can take your brand to the next level.
Futureproof Your Career In Web 3.0
The unreal hype around web3 has been gaining momentum, leading to new solutions which can change the landscape of technology. Web3 basically changes the way people use the internet. Therefore, it definitely indicates the possibilities for changes in careers of people in technology. You can expect web3 careers to dominate the labor market in the coming years, with the skill gap growing smaller.
Web3 serves decentralization as the answer to many traditional setbacks in the use of internet. However, web3 is comparatively new, and many people don't have a clear idea of what web3 actually means. A clear overview of the fundamentals of web3 can help you set the foundation for a career in web3. The following post will serve as a career guide for web3 jobs with a detailed outline of job opportunities and skills required to become a web3 expert.
Aspiring to Become a Certified Web3 Expert? Enroll in Certified Web3 Professional (CW3P) Certification Course now!
Career Opportunities in Web3
The first and foremost question on everyone's mind right now must be "What are the opportunities in Web3?" as it can clear the doubts regarding rewards with a web3 career. Interestingly, you can find the answer in the most important component of web3, i.e., blockchain technology. Blockchain offers the essential transformation from centralized to decentralized protocols governing financial transactions, information exchange and even the application itself.
Web3 aims to become a semantic web where machines and humans can interact with each other seamlessly. Blockchain can facilitate secure channels for interaction while safeguarding personal information and other significant data. Blockchain transformation has been one of the constantly evolving trends throughout discussions on the potential of technology. You can find web3 applications in DeFi, gaming, supply chain management, healthcare, IoT, digital identity and many other applications based on blockchain.
The potential of web3 is a promising reason to scout the web3 market for new jobs. A career in web3 would help in obtaining a competitive advantage ahead of your peers. You can imagine the scale of opportunities in web3 based on the use cases across different domains.
Build your identity as a certified blockchain expert with 101 Blockchains' Blockchain Certifications designed to provide enhanced career prospects.
Job Roles in Web3
The clarification regarding opportunities for a career in web 3.0 shows that you can explore many options. Blockchain and crypto have registered promising levels of growth, with significant applications gaining popularity in different sectors. The sheer growth in web 3.0 jobs between 2020 and 2021 at a rate of 395% shows that you have the perfect time for building your web3 career.
At the same time, you must have concerns regarding the average salary for web3 professionals. After all, financial remunerations are also a significant motivation for an individual to pursue a job. The average web3 developer salary estimate stands at around $120,000 to $170,000. Depending on the experience and job role, web3 professionals can also command higher salary estimates. The interesting highlights regarding jobs in web3 must have created interest in the types of job roles. Here is an overview of the common types of jobs you can explore in the web3 landscape.
Smart Contract Development
The web3 ecosystem is growing gradually and needs developers to contribute to the effort. Considering the massive skill gap in smart contract development, employers are likely to search for reliable developers. Smart contracts are practically the digital versions of real-world contracts or agreements.
They are developed over blockchain networks such as Ethereum and specify the conditions for the transaction. Smart contracts involve multiple lines of code, which can self-execute upon addressing compliance with the conditions. You can build your web3 future in the role of a smart contract developer, as smart contracts serve as the core element of web3.
Smart contract developers have an in-depth understanding of how different blockchain platforms work. The responsibilities of smart contract developers include identification of the ideal platform for addressing particular specifications and use cases. Developers could select the ideal systems for different use cases due to their abilities to convert the general use case requirements into technical specifications. You can develop your career in web 3.0 as a smart contract developer by starting off with foundations in programming. The application programming interfaces or APIs are also another subject area you should pursue smart contract developer jobs.
Excited to learn the basic and advanced concepts of ethereum technology? Enroll Now in The Complete Ethereum Technology Course
Another important choice among web3 careers to shape up your professional journey for the future refers to content creation. It is basically the process of developing entertaining, educational or informative resources for increasing awareness about web3, blockchain and crypto solutions. The jobs in web3 content creation can include developing crypto-related content such as digital marketing resources, technical reports, project communications, advertisements and many others.
The promising detail about content creation as one of the options for your web3 future is the flexibility of roles. Content creation for web3 is not only about writing but also related to development of videos, podcasts, infographics and many other resources. Graphic designers could opt for careers in NFT development or create their own NFT projects. Similarly, posting videos on crypto, NFTs, DeFi and the metaverse also comes under the compass of web3 content creation jobs.
UI Development and UX Design
The next significant entry among the best web3 jobs would refer to the roles of UI/UX developers. Decentralized applications, metaverse, NFTs, DeFi and crypto applications can grow further if users are comfortable using them. Therefore, front end of a web3 application is an essential requirement for ensuring that users can make the most of the application. Users should be able to find all the information on your website in a resilient and user-friendly approach. Front-end developers have to ensure readability of website content alongside interoperability across different devices and operating systems.
Apart from the design of simple and easy-to-understand user interfaces, web3 career opportunities also emphasize UX design. The user experience is a vital element that could hold them to a particular application. Interestingly, web3 designers have the capabilities for defining the appearance, layout and website of a project. Simple changes in color can make a huge difference. Therefore, you can notice that web3 development roles also include an emphasis on creativity.
Want to learn blockchain technology in detail? Enroll Now in Certified Enterprise Blockchain Professional (CEBP) Course
Skills Required to Approach Web3 Jobs
The answers to "What are the opportunities in Web3?" serve a credible impression of the lucrative appeal of web 3.0 careers. Now, you must be interested in learning the skills which can help you get one of these jobs. First of all, you must remember that smart contract development, application design and content creation are the popular and broad categories of web3 jobs.
You can explore many other jobs in the field of web3, such as DeFi and NFT developers, and each job comes with a unique set of responsibilities. However, you would need a common set of skills to discover your path to a web3 career. Here is an outline of the skills you would need for web 3.0 jobs of your choice.
The technical skills required for jobs in the web3 market right now would round up on two significant mentions. The first requirement of technical skills refers to programming skills, which are particularly essential for web3 development job roles. You must have the skills for writing the code which can serve unique use cases of decentralized applications. Another important technical skill you need for your web3 career is your fluency in cryptography. You can develop web3 applications which ensure the security of user data and privacy.
Aspiring to Become a Certified NFT Expert? Enroll in Certified NFT Professional (CNFTP) Course Now!
The lucrative web3 salary estimates have been frequently associated with the roles of developers. However, you can also capitalize on many other job roles for professionals without any expertise in coding. Some of the non-technical skills are also important to help you build your career as an all-around professional.
First of all, you need writing and communication skills alongside the ability to work in a team. Web3 is all about decentralization, and you have to work on a specific project in collaboration with others. Make sure that you have the ability to communicate your opinions expressively with tolerance for different types of feedback.
If you want to build your web3 career, you should also emphasize creativity. Creativity can help you adapt to the constantly evolving web3 landscape while helping you develop new ideas and content. The most important non-technical skill required for web3 professionals would refer to project management abilities. Build your capabilities for monitoring and supervision of the dApps development journey.
How Can You Get Web3 Jobs?
The detailed list of web3 jobs might serve as a welcome sign into the world of web 3.0. On the other hand, it is also important to know that finding a job is hard, irrespective of any sector you pick. Web3 is not any different from difficulties in job search, especially with the broad assortment of topics. You could not land up with a web3 job of your choice just because you know about cryptocurrencies in detail. Careers in web3 demand that candidates must know all about DeFi, DAOs, NFTs, decentralized gaming and other things related to web3. The following best practices could help you strengthen your claim for web 3.0 job roles of your choice.
Want to become a Cryptocurrency expert? Enroll Now in Cryptocurrency Fundamentals Course
The best way to convince a potential web3 employer is to show them that you can apply your skills to solve real problems. However, you need to build your web3 skills from scratch and stay updated with latest trends, protocols and new use cases. An early adopter always finds out opportunities for working with data-driven decisions regarding the applications. Web3 is an evolving concept, and you should always stay on top of the news. Awareness about the latest advancements in web3 can help you show employers that you are dedicated to the profession.
Look for internships in web3 companies, which will help you in improving your job experience. You can also find out more about web3 careers and research more about the options you can trust for a career in web3. Internships can help you learn about the skills you need and the type of career roles in web3 that you can follow.
The experience of working as an intern could also help in identifying a specific role that suits your personality and career development objectives. Most important of all, interns get to see what happens on the ground level in web3. At the same time, they also play a vital role in strengthening your dedication toward a web3 career path.
Another obvious and most productive suggestion for finding jobs to secure your web3 future would refer to communities. You can join crypto communities on Twitter and Discord and make sure that you stay active. The communities are great platforms for landing up with free giveaways, airdrops or the trending jobs in web3. One of the examples of a web3 project offering jobs through its community is Algorand. The application has a contribute option on its developer page, which allows users to work as developers on the platform and receive financial remuneration.
Pick the Best Learning Resources
The final and most important suggestion for increasing your chances of landing a job in the web3 market would focus on learning. You are more likely to land better web 3.0 jobs when you have the necessary skills. Therefore, you must pick suitable courses and certifications to improve your knowledge of web3 fundamentals. Web3 is a broad topic with many concepts such as blockchain, IoT, NFTs, DeFi and the metaverse, among others. You can prove your eligibility for web 3.0 jobs with proven expertise in all these domains. 
WHAT JOBS WILL THERE BE IN WEB3?
Get ahead and start preparing for work in Web3
Share:
‍Web3 is a broad subject. But it's also a space that harbours a wealth of opportunities! First, we had the good old Web1, in its simplest form; think just getting emails and hearing that Windows login sound every day. Next came Web2, a more established version of the web that incorporated features such as social media, pushing forward user-generated content to the forefront of the internet. And now in 2021, there's web3 – a relatively new, unexplored territory that incorporates the metaverse, NFTs, virtual reality, 3D graphics and altogether more advanced technologies.
Whilst web3 is still very much in its humble but impressive beginnings, we still have an idea of the types of jobs that it'll open up to people. Find out about the types of roles that will be coming up.
Solidity Developer
As web3 is a naturally tech-driven area, many of the roles may exist in tech already but will be transferable for Web3. One of these roles is solidity developer. In short, this type of developer creates smart contracts that can be deployed on one of the largest blockchains, Ethereum. Solidity is the name of the type of programming used to create these contracts. If you fancy a developer role within the Web3 space, this could be for you. Added bonus: salaries for this specialist skillset are HUGE.
Marketing Officer
Along with the high-tech jobs and roles that will be offered up within web3 there will still be scope for more traditional, non-technical roles. One of these roles will be within the field of marketing, from junior marketing roles to senior chief marketing officers. If you have experience within the marketing field it might be worth learning more about the space and transferring those skills.
Public Relations
Another non-tech role that will be launching in the metaverse is public relations. With new tech comes the need for new ways to drum up excitement around a new metaverse product, or software. So if you're a PR whizz looking for a change of industry, it might be worth hopping on the metaverse and web3 PR hype.
Blockchain Engineer
Ethereum and Bitcoin are some of the biggest blockchains currently in existence, and the blockchain engineer role will most likely require you to work within these spaces. This role involves designing and developing applications through the use of blockchain technology, evaluating blockchain applications, and using blockchain tech to create an application or system that would be beneficial to the company they're working for.
Community Manager
A community manager is pretty much what it says on the tin, but within very specific channels and spaces. It's a role is for someone who is not only able to manage the company's relationship with its community, but will most likely require you to manage these communities on messaging platforms such as Discord or Telegram. You'll be in charge of drumming up conversations and hype for your company in these spaces. So keep your finger on the pulse; you're going to see a lot more metaverse community roles propping up.
Unity Designer 
If you're into the game development side of web3, the role of the unity designer might be just for you! Much like Solitary, Unity is a game engine designed to create games and experiences in both 2D and 3D and with the metaverse VR, AR etc.! This is an area that is as creative as it is tech-savvy, and would lend itself well to someone who knows how to navigate Unity, but is also keen on creating these experiences within the metaverse.
---
The List of Web3 Articles and Courses
Here is the list of free learn resourses that can help you to learn how How to Develop Smart Contracts for Ethereum Blockchain.
0. Whitepapers
1. Get started Building Web3 Apps with Cloudflare
Learn how to build Web3 applications with Cloudflare's new open-source template
---
2. ETHEREUM DEVELOPMENT TUTORIALS
Browse and filter vetted Ethereum community tutorials by topic.
Here are many tutorials, here are some of them:
2.1 Solidity, Blockchain, and Smart Contract Course – Beginner to Expert Python Tutorial
This course will give you a full introduction into all of the core concepts in blockchain, smart contracts, solidity, NFTs/ERC721s, ERC20s, Coding Decentralized Finance (DeFi), python and solidity, Chainlink, Ethereum, upgradable smart contracts, and full stack blockchain development.
2.2 How to make NFT Art with On-Chain Metadata | FULL HARDHART / JS TUTORIAL! (w/ Polygon & Opensea)
We explore the world of using SVGs to generate random NFT ImageURIs and Metadata 100% on-chain. In combination with Chainlink VRF to create randomness and true scarcity. We use Hardhat, Javascript, and Solidity.
These customized smart contracts were deployed to the Polygon chain, so you can see exactly how we did this!
2.3 Create your own Blockchain ERC20 Token | Python, Brownie, Solidity
Build your own ERC20 token using Brownie, Python, and Solidity.
2.4 Scaffold-ETH – Simple NFT Example
Build, mint, and send around your own ERC721!
2.5 UNISWAP-V2 CONTRACT WALK-THROUGH
Uniswap v2 can create an exchange market between any two ERC-20 tokens.
In this article we will go over the source code for the contracts that implement this protocol and see why they are written this way.
---
3. Buildspace
If you're a dev that's curious about crypto but not sure where to start — this is the spot for you. Learn + start building cool stuff right now, earn NFTs, access secret work opportunities in crypto.
Some of their courses:
Build a Web3 App with Solidity + Ethereum Smart Contracts
Build an advanced Solana dApp
Mint your own NFT collection and ship a Web3 app to show them off
Build a Web3 app on Solana with React and Rust
Build your own DAO with just Javascript
Create your own NFT browser game
---
4. Crypto Zombies
Learn to Code Blockchain DApps By Building Simple Games.
CryptoZombies is an interactive school that teaches you all things technical about blockchains. Learn to make smart contracts in Solidity or Libra by making your own crypto-collectibles game.
---
5. Blockchain Basics
A learner will be able to recognize foundational concepts of blockchain, and apply these program concepts on the blockchain.
---
6. The Complete Guide to Ethereum Development
Building Full Stack dApps with React, Ethers.js, and Hardhat. Tagged with solidity, ethereum, dapps, react.
---
7. Everything you need to know about NFTs
Discover everything you need to know about Non-Fungible Tokens, also known as NFTs, to get you started with true digital ownership.
---
8. ETHGlobal YouTube Channel
Videos from conferences, hackathons, masterclasses, workshops from a world-class Ethereum developers.
---
9. Blockchain-based Systems Engineering – Lecture Slides
This GitHub-repository contains all contents of the lecture Blockchain-based Systems Engineering (IN2359), held regularly in the summer term at the Technical University of Munich, starting in 2018. About 500 students regularly enroll in the course. – Lecture: Prof. Dr. Florian Matthes – Exercises / Tutorials: Ulrich Gallersdörfer
Slide deck 13 (Corda) created with support of Gonzalo Munilla Garrido and Susanne Stahnke.
---
10. Why NFTs are hard to explain?
This article explaining the gist of NFT concept.
---
11. Solana Developer Resources
Developer resource that provides the essential concepts and recipes for building applications on Solana.
---
12. PL Launchpad Program
A 6-week onboarding program for new full-time PL Network contributors to quickly ramp up their InterPlanetary web3 knowledge, grow strong community bonds, and find their best-fit role in the PL Network.
---
13. Pointer
Learn web3 development and earn crypto rewards. Start learning the skills for the web3 programming economy and get paid while you learn.
Some of their courses:
Taking payments with Solana
Create a Web3 Forum using Polygon
Build a full-stack Solidity + NextJS app
Built NFT
---
Start your Web3 Career
Once you are ready you can start applying for Web3 Jobs. You don't need to have huge experience, there are many entry level Web3 Jobs and Web3 Internships.
For Developers
For Non-Tech
For Designers
For everyone
wagmi!
---
FAQ
Here are some common questions that people asked who want to learn a Web3:
Should I learn Javascript before I dive into Web3 and Solidity? I don't have much experience with coding bare. A minimal exposure to code and some HTML/CSS.
There are Web3 jobs where you only do smart contracts, with emphasis on security and optimization of each line, all in Solidity.
Solidity launguege looks pretty similar to Javascript.
Other Web3 jobs will require you build nice UI/UX in React (most probably) and you'll only need the basic knowledge to interact with a smart contract from JS, but you should be really good building UIs.
So I'd recommend: 1. Give Solidity a try. 2. Give ReactJS a try, and see how it feels.
If you're more passionate about UIs, you can focus on that and learn just the basics of Smart Contracts in Solidty (that wouldn't take many days I think), then you go all-in into React.
But if you don't like building UIs and prefer the Smart Contracts world, you can go all-in into Solidity and if you become a master of understanding and building SCs then the world is yours!
Then there are areas of specialization, like focusing on DeFi only, or NFTs only. There are so many possibilities!
Follow your passion and keep learning and I think this is the way!