Discussions about the metaverse have dominated massive spaces in tech news recently, especially after Facebook's rebranding. The social media giant renamed its parent company Meta in October 2021 and launched a comprehensive set of metaverse development tools for developers and users. Since then, the world has started to dig deeper into other metaverse projects and possibilities associated with the same. The involvement of big companies in the metaverse spells some favorable opportunities for setting professional goals to become metaverse developers and capitalize on emerging prospects. As the movement for building the metaverse gains momentum, it is reasonable to wonder about the career opportunities in the metaverse. 
While one would reasonably find the metaverse developer job as the first choice for building their professional journey in the metaverse, do you know the roles and responsibilities of a metaverse developer? What is their work in driving the growth of the metaverse? Will you develop the metaverse on an open platform or under specific restrictions to the mobile app ecosystem? 
All these questions are the most crucial factors for any individual aspiring for a career in the metaverse. The following discussion helps you with reliable guidance on the role of metaverse developers and how you can become one. In addition, you can also identify other career options you can pursue with the metaverse other than metaverse developer roles. 
Aspiring to Become a Certified Metaverse Expert? Enroll in Certified Metaverse Professional (CMP) Certification Course Now!
Scope of Jobs in the Metaverse
Many beginners in the metaverse and even professional developers have doubts about pursuing metaverse jobs. The metaverse is an immersive 3D environment powered by augmented reality and virtual reality to offer users life-life experiences. If you want to become a metaverse developer, you must learn how to develop such immersive experiences for users. Today, you have almost every technology required for developing the metaverse, including VR systems such as HTC Vive and Oculus Quest. In addition, new virtual worlds such as Fortnite and Roblox are also offering vital support for developing the metaverse. 
At the same time, you can access a broad range of developer tools such as Amazon Sumerian, Unreal Engine of Epic Games, and Maya by Autodesk. Therefore, now is probably the best time to ask "How to become a metaverse developer?" and about other opportunities. Let us reflect on the different pointers you should know before pursuing the role of a metaverse developer. 
Want to get an in-depth understanding of metaverse concepts? Become a member and get free access to Metaverse Fundamentals Course Now!
What are the Responsibilities of Metaverse Developers?
The first thing you need to know for pursuing a career in the metaverse as a developer is the job description. Metaverse developers take on the responsibility of creating comprehensively engaging and immersive worlds. You have to create interactive games, platforms, or experiences where users can interact with each other in innovative and exciting ways. Some of the prominent highlights in the work of metaverse developers would reflect on the unlimited possibilities of the metaverse. 
Metaverse developers can create environments in the metaverse, which users can explore with their family and friends. In addition, metaverse developers can also work on gaming projects such as first-person shooters and role-playing games. Metaverse developers can also create metaverse spaces to help users practice new skills, such as cooking lessons or yoga. The scale of work is one of the reasons why you might be thinking of possible metaverse developer salary estimates. However, the metaverse developer jobs are comparatively new, and there is no specific consensus on the average salary for metaverse developers. 
On the other hand, a clear impression of the skills required for metaverse developers can showcase lucrative prospects associated with metaverse careers.
Read More: 5 Best Metaverse Games To Play
Skills Required for Metaverse Developers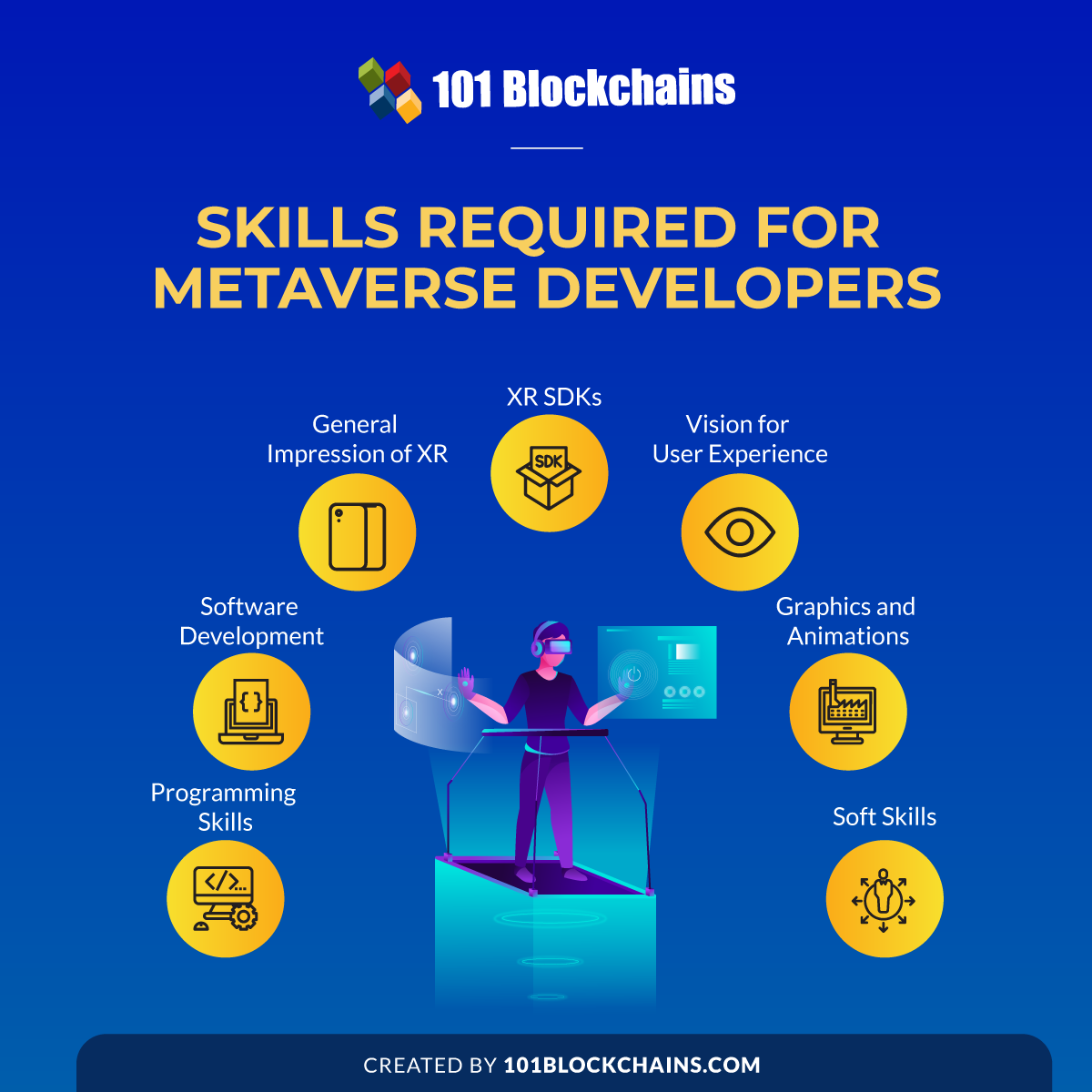 One of the most crucial pieces of information you need for answering "How to become a metaverse developer?" is the outline of skills required for metaverse developers. The significant work of metaverse developers revolves around virtual, augmented, and mixed reality technology. At the same time, you would also need programming and soft skills to become a a metaverse developer with all-around proficiency. Here is an overview of the essential skills needed as a metaverse developer. 
The first entry among essential metaverse developer skills would be programming skills. Metaverse developers must have essential practical experience in different programming languages such as JavaScript, Swift, Python, and others. In addition, you should develop a strong command over concepts such as loops, inheritance, encapsulation, control logic, abstraction, and many others. 
Read More: NFTs And Their Role In The "Metaverse"
You should also have software development skills with fluency in different approaches to software development. The distinct options for software development include web development, game development, and mobile app development. Irrespective of your fluency in different types of software development, you have to develop specific essential skills such as, 
We are developing UI/UX on a specific mock use case.
We are connecting client-side apps to a specific API.
Addition of third-party libraries for enhancing functionalities. 
Apart from these essentials, you should also learn other software developer skills tto easily land a metaverse developer job. You must develop a comprehensive impression of code architecture alongside testing and security best practices. 
As a metaverse developer, you would come across XR technologies more frequently than ever. Therefore, you can pursue a career in the metaverse only with comprehensive awareness regarding technologies such as VR, AR, and mixed reality. Aspiring metaverse developers must understand all the basic terminologies associated with XR and the underlying challenges. 
Metaverse developers would also have to develop skills using XR SDKs such as Wikitude, ARCore, and Vuforia. You must learn to use XR SDKs according to your feature requirements and existing code architecture in metaverse development. In addition, you should also note the importance of knowledge about VR SDKs among metaverse developer skills required for developing VR experiences in metaverse applications. 
Want to explore more about the metaverse and discover how blockchain could be a crucial tool in driving a new metaverse? Enroll Now: NFT Fundamentals Course
Vision for User Experience
Metaverse developers must create engaging solutions in the digital world, thereby implying the necessity for focusing on user experience. When shaping user experiences for the metaverse, you have to work on the optimization of plane searching, occlusion features, and depth mapping. Furthermore, you can become a metaverse developer with better skills in designing user experiences for metaverse solutions by studying UX design. 
The metaverse will be all about digital avatars interacting in virtual spaces, thereby calling for an emphasis on graphics and animation in metaverse development. You can find another good answer to "How to become a metaverse developer?" with graphics rendering. Metaverse developers should be able to prototype different metaverse experiences in the form of animations. In addition, they should also have the skills for delivering the animations and graphics seamlessly with the metaverse experiences of users. 
Among the many prominent metaverse developer skills, the importance of soft skills never goes unnoticed. Regarding soft skills required for metaverse developers, the urge to stay updated with the latest trends comes first. You must follow metaverse trends closely and the new practices for metaverse development. On top of it, you should stay informed about the latest news, community events, jobs, and expert insights. Apart from helping you hone your skills as a metaverse developer, your soft skills would also support you in professional networking. 
Also Check: Is Metaverse The Next Big Thing?
Salary of Metaverse Developers
The sheer magnitude and range of skills required to become a metaverse developer clearlyob's difficulty clearly. Wany skills to learn, you would expect a lucrative salary estimate to compensate for your efforts in becoming a metaverse developer. At the same time, the limited availability of metaverse developers is also a favorable factor for better salaries. The average estimate for a metaverse developer's salary is evident in the annual salary for a Meta developer. Currently, the annual salary for a developer at Meta is almost $97,363, which shows promising metaverse career opportunities.
How Can I Become a Metaverse Developer?
The outline of metaverse developer skills and the estimated salary gives you the foundation to start your journey of becoming metaverse developer. However, you must know about the ideal path to pursue your career in the new world of the metaverse. Here are some pointers you should follow for building your career in the metaverse as a developer.
Start with a clear impression of the metaverse, different technologies involved in the space, and the basic concepts of the metaverse. 
Set clear goals for why you want to become a metaverse developer, whether it is career development or learning a new skill.
Build a comprehensive impression of the job of a metaverse developer and what you need to do in the job. A clear impression of what a metaverse developer does can offer you the basic idea of skills needed to become metaverse developer. 
Learn all the fundamental metaverse developer skills such as programming, UX design, software application development, and graphics rendering. 
Hone your skills with practical resources to learn about metaverse development. Training courses and practical demos could serve as vital tools for enriching your knowledge of the metaverse and development of best practices. 
Engage with online communities with metaverse enthusiasts and professionals to broaden your knowledge. You can gain practical insights from such communities alongside building a solid professional network. Interestingly, such communities can be the best places to find information about metaverse developer job listings. 
Finally, you should invest adequate time and effort in building your professional portfolio to showcase your credibility as a metaverse developer. 
Must Read: Top 5 Blockchain And Crypto Projects In The Metaverse
Alternative Career Options in the Metaverse
The common assumption about pursuing a career in the metaverse is that you can work as metaverse developers only. On the contrary, you can explore a wide range of career roles other than that of a developer in the metaverse. Knowledge of the alternative career options gives you the flexibility to try other routes for building your metaverse career. Here are some other notable job roles in the metaverse space which you may want to pursue. 
Metaverse Research Scientist
Metaverse planner
Safety manager
Ecosystem developer
Metaverse storyteller
Ad-blocking expert
Metaverse cyber security expert
Game designers
Product managers
NFT strategists
With such a broad assortment of alternative career options available within the multiverse, one cannot ignore the professional advantages in metaverse jobs. No one is forcing you to become metaverse developer for a metaverse career. Choose your career path according to your goals and pursue the path with diligence for effective professional development. 
Aspiring to Become a Certified NFT Expert? Enroll in Certified NFT Professional (CNFTP) Course Now!
Final Words
The final take away from the discussion on "How to become metaverse developer?" would be the lucrative prospects in metaverse careers. Facebook, Microsoft and many other big names in tech have started developing metaverse-centric solutions. While the world is still far away from an all-round metaverse, the career prospects in metaverse are building up slowly. The gradually increasing demand for metaverse projects has been driving the need to learn skills for becoming metaverse developers. At the same time, you should also notice the alternative career prospects associated with the metaverse. However, the metaverse is still under development and now is the right time to capitalize on the trend before the competition gets tough. Start exploring efficient learning resources on the metaverse right now.
Join our membership program and get access to 20+ courses along with Metaverse course.
About Author
Georgia Weston is one of the most prolific thinkers in the blockchain space. In the past years, she came up with many clever ideas that brought scalability, anonymity and more features to the open blockchains. She has a keen interest in topics like Blockchain, NFTs, Defis, etc., and is currently working with 101 Blockchains as a content writer and customer relationship specialist.