Decentraland has become a household name in crypto metaverse land. Here's a complete guide to it and how to play it.
Online gaming is arguably one of the best use cases for blockchain-based technology. The ability to assign traceable and verifiable ownership to in-game items provides tremendous capabilities.
This concept has grown in popularity, and perhaps one of the first games to pioneer the field was Decentraland.
The below is a comprehensive guide on Decentraland – what it stands for, how it was launched, and how to play it in a detailed step-by-step guide.
Quick Summary:
Name: Decentraland
Launch date: 20.02.2020
Tokens and network: Ethereum, LAND, MANA
What is it about: Decentraland is a decentralized virtual platform where users can create, travel, and monetize experiences, content, and applications.
Associated brands and celebrities: Samsung, Australia Open 2022, Digital Currency Group, JJ Lin, and others.
What is Decentraland?
Decentraland brings forward a decentralized virtual reality (VR) platform that's built on top and powered by the Ethereum blockchain. Within it, users are able to create, experience, and monetize experiences, applications, and content.
In essence, it's a virtual reality where the 3D land is permanently owned by the community, which provides members with absolute control over their creations. You can log in, create an avatar, and start exploring, buying land, and building all sorts of builds ranging from playgrounds to virtual cinemas and galleries.
Those who own land can control the content published to their portion of the land and these contents can range from interactive systems such as games to static 3D scenes such as paintings, for instance.
One thing that makes Decentraland different compared to other popular blockchain-based games is the fact that it's not controlled by a centralized organization. Instead, there's a Decentralized Autonomous Organization (DAO) that governs the policies created to determine how the Decentraland world would behave.
As of writing this, there are already many cool places that users can visit in Decentraland, but more on that in the How to Play section below.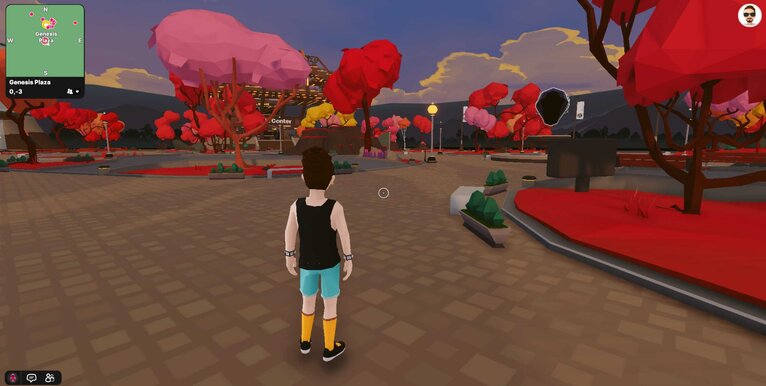 The Decentraland DAO
The Decentraland DAO was created to turn the game into the first truly and fully decentralized virtual world and it has been a part of the original vision of the game's developers.
The DAO owns the most important smart contracts, as well as the assets that make up Decentraland – the LAND Contract, the wearables, the content servers, the Estates Contract, and the marketplace.
This DAO also owns a lot of the game's native MANA tokens, which allows it to be autonomous while also enabling it to subsidize different operations and initiatives.
Those who participate in the DAO (read all LAND and MANA holders) can schedule votes to decide on different issues such as:
Addition and replacement of content servers
Upgrading LAND to add more features
Specifics and dates of LAND auctions
Primary sale fees
Addition of new wearables and so forth
The Team Behind Decentraland
Decentraland was conceptualized in a detailed whitepaper written by Esteban Ordano, Ariel Meilich, Yemel Jardi, and Manuel Araoz. It's also worth noting that they got some help from notable experts such as Michael Bosworth from Google, Jon Choi from Dropbox, Jake Brukham from CoinFund, and so forth.
The team's vision became a reality on February 20th, 2020 (20.02.2020), when Decentraland went live to the public. The launch included the establishment of the Decentraland DAO, as well as the full decentralization of the world's infrastructure and the public access to what it had to offer.
It was an important moment in Decentraland's development roadmap because, after it, no single entity was ever able to single-handedly modify the rules of its code stack.
While there are no verified sources of information revealing the current playebrase of Decentraland, the fact that it has grown to become one of the leading metaverse-based virtual realities in the blockchain industry right now (as of writing these lines in January 2022) is undeniable.
A lot of this was made possible thanks to the big players who stepped through its digital doors and set foot into its digital lands.
From Samsung to AO 2022: Noteworthy Decentraland Partnerships
Speaking of partnerships, one of the most considerable advents in this regard was surely Samsung revealing its attempts to dive deeper into the metaverse through Decentraland. These include limited-supply collections of Samsung Decentraland wearables that users can buy to customize their in-game avatars.
One of the four tennis Grand Slam tournaments – the Australian Open, also announced that it will join the metaverse by partnering up with Decentraland.
One of the well-known backers of the project is the industry-leading Digital Currency Group spearheaded by famous crypto proponent Barry Silbert.
In June 2021, Sotheby's – the world's older auction house, also claimed its stake in the metaverse. It opened the first-ever virtual gallery, choosing Decentraland as the main destination. This is how it looks from within the game itself:
Decentraland Tokenomics: Explaining LAND and MANA
The game itself is comprised of many parts, and its intricacies are numerous. However, understanding its tokenomics is critical to being able to play it. The two primary tokens in Decentraland are LAND and MANA.
LAND Token Explained
The land within the Decentraland metaverse is represented by non-fungible LAND tokens. In essence, these are non-fungible tokens (NFTs) that track the land ownership on Ethereum's blockchain.
For a detailed guide on what is an NFT – take a look here. To see how to mint NFTs on OpenSea – click here.
LAND tokens are built on top of the ERC721 protocol standard which makes it a digital asset that can be traded with other users – just like any other NFT.
One of the main differences between LAND and other NFTs like the Bored Ape Yacht Club collection, for example, is that players are able to use LAND within Decentraland to construct 3D spaces and applications like in the example below:
Land parcels are 16m x 16m. The height is restricted based on these limitations as well. Moreover, LAND is a digitally scarce token, and it corresponds to the fixed total amount of MANA tokens.
Quick Interesting Facts:
On November 24th, 2021, TokensCom paid 618,000 MANA (worth $2.4M at the time) to buy a patch of land in Decentraland. This is the most expensive virtual real estate to date (January 2022).
In June 2021, someone bought a plot of virtual land for $1 million.
Chinese celebrity singer JJ Lin has bought three pieces of virtual land on Decentraland.
How to Buy LAND?
There are a couple of ways users can buy virtual properties (LAND) in the Decentraland metaverse. The first one of them is to participate in timely auctions that are announced by the team every now and then and sell unclaimed LAND.
The more popular one is to go to Decentraland's Marketplace and buy it there. Once you get to the marketplace, you will get prompted to connect a web wallet and we recommend that you use the most popular one – MetaMask (unless you have another one that you're used to.) If you don't have the wallet installed, visit the official website, install the Google Chrome extension and follow the instructions carefully.
Important: in case you install the wallet for the first time, be aware of phishing and double check you visit the correct website URL, read here for more security tips.
Once you have your wallet connected to the Marketplace, you can click on "Land" in the top left corner, and you will see the following map:
The little squares are the LAND units, and you can click on each one of them to check their details and place a bid (in case it's owned by someone, like most of them already are). To buy it, you have to place a winning bid:
MANA Token Explained
The other token that's essential to Decentraland's in-game economy is MANA. Unlike LAND, MANA is a fungible ERC20 cryptocurrency that can be burned or spent in exchange for LAND parcels. It can also be spent in the Decentraland Marketplace to buy various things that the game has to offer.
How to Buy MANA?
Unlike LAND, MANA is traded freely on many leading crypto exchanges such as Binance. You can create an account at each one of them and buy some of it on the open market. If you want to use them in the game, though, you need to transfer them to the wallet you are using.
Now that all of the above is clear, let's see how to actually play the game.
How to Play Decentraland
Once you get to the official website of the game, you will see a big red button in the middle that you should click to get started. Then, you will be prompted to either play using your wallet or continue as a guest:
For this guide, we will connect a MetaMask wallet and sign the necessary permissions. Once the game loads, you will be able to create your very own avatar. This will be the character that you play the game with, so make it pretty:
There's a bunch of traits that you can choose from, such as the body, head, top, bottom, shoes, accessories, and add different collectibles. Additionally, you can also buy items using the Marketplace but more on that below.
Once you have your avatar ready to roll, hit the "done" button in the bottom left. Now you would have to name it, agree to the terms and conditions and you're ready to roll.
You get dropped at Genesis Plaza alongside all the new players that have just started their journey:
Notice that there's a tutorial box towards the bottom of your screen – we highly recommend that you keep that up until you are used to playing the game, as it will give you the basics.
Once you're at Genesis Plaza, start controlling your avatar using the traditional "W, A, S, D" keys – just as in most MMO games.
All around Genesis Plaza, you will find a few pillars, each one of which is filled with different activities that you can do:
Alternatively, you can also jump through the middle in the giant hole-looking whirlwind thing and explore other avenues:
Another cool thing is that when you press M, you toggle the map. There, you can search for different locations and "jump in" right to them without having to walk there.
On the bottom right, you will find your current location. On the top, there is a navigation menu that allows you to explore different options. For example, if you hit the "explore" button you will get redirected to a page where you can find various places, events, and so forth.
Remember that earlier in the guide we mentioned that Sotheby's opened a gallery in Decentraland? Well, let's check it out.
Exploring Decentraland
Once you click on Explore on top of the page, you will also find the "Places" button, and as soon as you hit it, some of the popular locations in Decentraland will pop up. We selected Sotheby's gallery and jumped right to it. Here's where we ended up:
And the cool thing is that Sotheby's has actually displayed some art pieces to check out. For instance, this is one of Banksy's pieces:
You can also just click on the painting itself, and it will send you to the official Sotheby's page containing the full art details.
What Else Can You do in Decentraland?
It's important to keep in mind that Decentraland is not exactly the type of game that many would probably be used to – you don't get to fight other players or go against the environment. Instead, it's designed to be a pixelated virtual alternative to our world with all the bells and whistles.
Those who buy land can build on it using the builder tool that's also available from the top navigation menu:
It's clear that the possibilities are virtually endless. Take our short cruise to Sotheby's, for example. Just as an idea, you can build out an impressive art gallery, and if players come to visit it, you can commission artwork on display. For instance, if an owner of a Bored Ape NFT wants to sell it, he might consider paying you to display it if gets the sufficient exposure – just as Sotheby's is doing for their artists.
There are many other avenues that can be explored. You can also go to various theme parks, ride a bus or just run around and explore the Decentraland, which is already getting rather big, and there's plenty of things to discover.
The Decentraland Marketplace
The Decentraland Marketplace is an integral part of the game. It allows users to buy and sell various items such as collectibles, wearables, and whatnot.
To access it, all you need to do is visit the official website and hit "marketplace" on the top. You can also access in-game by hitting the M button and finding it on the top navigation menu where the map and the builder tool are.
This is what the marketplace looks like:
You can browse for various items and buy them using the in-game currency – the MANA token.
Decentraland Review: Revolutionary but not Unreal
Decentraland boasts a complete metaverse experience as many would imagine it. It's a fully-fledged digital alternative to our lives on a blank canvas where users are able to build everything from the ground up, and some have already started.
The fact that it's decentralized and governed through a DAO does set it apart from some other popular releases in the industry.
We spent a couple of days exploring Decentraland's universe, and it's safe to say that it is undergoing serious in-game development. There are massive structures being built, galleries, museums, arcade parks, and even a university (albeit not quite finished yet). This shows that there's some serious interest in the game.
Although anecdotal, it also feels like the game is getting more popular. We played it a couple of months ago and failed to encounter anyone out of Genesis Plaza (the starting zone), but now – we saw quite a few players cruising around and exploring various locations. This is promising.
Of course, if you are used to a triple-a gaming experience, flawless Unreal graphics, and gameplay, Decentraland is not for you – the game is currently a very simple browser-based experience that wouldn't really impress anyone in terms of design and/or gameplay.
However, it's one of the earliest attempts to create a blockchain-based game where transactions happen on-chain and users have legitimate and verifiable ownership over the in-game items. As such, the developers have done an admirable job, and it looks like it has a very bright future ahead of it.SPECIAL OFFER (Sponsored)
Binance Free $100 (Exclusive): Use this link to register and receive $100 free and 10% off fees on Binance Futures first month (terms).
PrimeXBT Special Offer: Use this link to register & enter POTATO50 code to receive up to $7,000 on your deposits.
A beginner's guide to buying virtual real estate in Decentraland (MANA)
What is Decentraland (MANA)?
If you still doubt that the metaverse is real, you should look into Decentraland (open-world metaverse). You can do whatever you want with the land you buy on Decentraland, tapping into the imaginations of gamers and business people everywhere. This is a one-of-a-kind endeavor in an untested market.
Decentraland is an Ethereum-based metaverse game that encourages a global network of users to operate a shared virtual world. Ari Meilich and Esteban Ordano, two blockchain professionals, create Decentraland's smart contracts. The project was created in 2020 by both creators, and it is governed by a decentralized autonomous organization (DAO).
Users of Decentraland can explore, engage and play games in this virtual environment while buying and selling digital real estate. Users may now use interactive apps, in-world payments and peer-to-peer communication, thanks to the platform's evolution.
Additionally, Decentraland is a fully immersive virtual realm, similar to Skyrim and Fallout. However, instead of playing on a two-dimensional screen, you'll be immersed in a three-dimensional environment. The virtual world promotes creative digital ownership concepts and includes online places such as museums where users can exhibit nonfungible pieces of digital art called NFTs.
Decentraland appears to be the next logical step before producing full-fledged artificial intelligence-based games in the real world. This article will explain how Decentraland works, how to buy virtual land in the metaverse and explain why MANA is so bullish.
Three native tokens of Decentraland
ESTATE, an ERC-721 token representing merging pieces of digital land; LAND, an ERC-721 nonfungible token representing parcels of digital land; and MANA, an ERC-20 token that is the official currency of Decentraland, are the platform's native tokens.
Let's go over the differences between ERC-20 and ERC-721 tokens before looking at how Decentraland's tokens power its digital economy. MANA and other ERC-20 tokens are known as fungible tokens because they may be swapped for other ERC-20 tokens. Similarly, each MANA token is identical and without any distinguishing characteristics. These characteristics contribute to MANA's suitability as a Decentraland in-world currency.
ERC-721 tokens like LAND and ESTATE, on the other hand, have properties that distinguish them from one another. As a result, they're referred to as NFTs because they're not interchangeable. This means they can't be used as currency, but they can be used to make one-of-a-kind in-world products like avatars, wearables and unique land parcels.
Three smart contracts define the attributes of MANA, LAND, and ESTATE: the MANAtoken, the LANDregistry and the EstateRegistry contracts. Individual parcels of LAND, which you can purchase with MANA in Decentraland's Marketplace, make up all virtual space in Decentraland.
You can also purchase wearables for your avatar at the Marketplace, such as clothing, shoes and accessories. The Ethereum blockchain records every transaction, effectively turning it into a registry for all of the digital property you gain in Decentraland.
You can construct digital environments and applications on LAND, such as games and themed communities, that can be monetized if you own virtual land. Estates can be formed by combining LAND parcels that are physically adjacent to one another. Rarible, a cryptocurrency company, has set up virtual offices and art galleries in Decentraland. In addition, several virtual conferences and virtual real estate investing have also taken place in Decentraland.
Technology architecture of Decentraland
Many layered components of Decentraland are constructed using Ethereum smart contracts.
The consensus layer keeps track of land parcel ownership through a ledger. Each LAND parcel contains a virtual world coordinate, an owner, and a link to a description file that describes the information within the parcel.
Finally, using user avatars and voice chat and messaging, the real-time layer supports social interactions within Decentraland.
Marketplace and Builder
The Decentraland team has also developed a marketplace and a drag-and-drop editor for users to utilize to create settings outside of the gaming area.
Participants can use the marketplace to manage and exchange LAND tokens, which are priced in MANA. In addition, owners can use the marketplace to buy, sell and trade parcels and other in-game products like wearables and unique names. It's worth noting that all transactions are resolved between Ethereum wallets and thus are validated by Ethereum's network and recorded on its blockchain.
Owners can use Decentraland's building tools to create a one-of-a-kind experience within their LAND plots. Developers can access customization libraries and payment implementations through its editing tool, which allows them to create interactive scenes.
How does Decentraland work?
Decentraland is a virtual environment like any other metaverse project. You can explore Decentraland's map and participate in one of the many community events taking place. Across the crypto sector, communities do everything from concerts to gambling nights to movie screenings where people gather in one spot and have a good time.
You can also participate in the in-game economy by purchasing digital art and/or exchanging it with other players on the platform. Players can engage with the platform and track LAND parcels, which are real estate parcels. These tokens can be bought and sold by users.
Unlike other virtual reality games, however, participants in Decentraland have some direct control over the rules of the platform. As a result, users can vote directly on the game and the organization's policy through the DAO.
Each small square on the Decentraland map represents a piece of LAND. A district is a cluster of LAND parcels. A district is a group of LANDs with common interests, styles or communities. There's Vegas City, District X (formerly known as the Redlight District), Fashion Street, Dragon City and much more. Decentraland has it all, whether you want to debate about startups, play casino games, watch Minecraft streaming, look at virtual real estate or even analyze the latest Southeby NFT drop.
How to buy Decentraland (MANA)?
MANA is available on many crypto trading platforms like Coinbase, Kraken. Steps to buying MANA on these platforms are explained in the sections below:
Steps to buying MANA on Coinbase
Follow the below steps to buy MANA on Coinbase:
Create a Coinbase account: Start by downloading the Coinbase app and filling out the registration form. To transact, you'll need a valid ID and maybe proof of address, so make sure you have these on hand. Depending on where you reside, verifying your ID may take longer than a few minutes.
Add a payment method: Connect a payment method by tapping on the payment method box. For example, you can pay with a bank account, a debit card or a wire transfer.
Start trade by selecting Decentraland from the list of assets: Choose "Buy" from the drop-down menu. Type "Decentraland" into the search bar to find Decentraland. When Decentraland appears in the search results, tap it to get to the purchase page.
Enter the amount you want to buy: Input the amount you want to spend in your native currency using the number pad. This will be immediately converted to a Decentraland amount by the app.
Finalize your purchase: When you're ready, tap "Preview buy." The specifics of your purchase will be displayed. After you've double-checked that everything seems good, you can finalize your order. That's it; Decentraland is a part of your portfolio now.
Steps to buying MANA on Kraken
Follow the below steps to buy MANA on Kraken:
Sign up for a Kraken account: Create an account by entering an email address, a new username and a strong password to secure your account.
Verify your account. You may buy MANA with cryptocurrencies like Ethereum (ETH) after providing your name, date of birth, country of residence and phone number. You'll need to give our specialists additional supporting documents validating your identification if you want to use fiat (i.e., USD or EUR).
Deposit cash: You have several options for funding your Kraken account. Your method will be determined by your location and preferences.
Purchase MANA: You're ready to buy MANA after your account has been loaded with cash. You'll also have access to Kraken's comprehensive charting tools, 24-hour worldwide customer support and the opportunity to use margin trading at this time, all of which contribute to the Kraken experience being adored by millions of traders around the world.
How to store MANA?
MANA tokens can be stored in one of two ways. The first is hardware wallets, which are very useful if you plan to keep MANA for a long time. Because they are offline wallets, they are extremely safe and impossible to hack. The Ledger Nano S and the Ledger Nano X are two hardware wallets available on the market that support MANA.
The Nano S is designed for newcomers and only includes the features required to keep crypto safe. The Nano X is more advanced, with a bigger screen and Bluetooth connectivity, among other things. Software wallets are the second alternative for holding MANA tokens, and they are a viable solution for short-term storage.
How do I buy property on Decentraland?
The areas you interact within Decentraland are LAND, non-fungible digital assets that you purchase in the game. Once you possess a piece of LAND, you can do whatever you want with it. Games, applications, gambling services and even dynamic 3D scenes are possible.
But why should it end there? Although not its primary goal, LAND-based services can be built in the areas of education, professional development, tourism and so forth. So, if you want to know how you buy things in Decentraland, please follow the steps below:
Sign up
The first step is to go to Decentraland's Marketplace and sign in or create an account if you haven't previously. Once you've signed in, go to "Parcels and Estates," then "View All."
Select a parcel of LAND
The next step is to look through the available parcels of land and pick your favorite one. You may see the nearby places and the proximity to famous areas by purchasing land in Decentraland directly from the marketplace.
After you've chosen your virtual piece of property, click on it to learn more about it. The price of the land in MANA, its availability and the name of the owner may all be found here. To make a purchase, tap "Buy."
Connect your wallet to the Decentraland Marketplace
To make the purchase, make sure your wallet is linked to your account, as the land will be transferred to your wallet as an NFT after the transaction is completed and successful.
You can download wallets like MetaMask and Trust Wallet if you don't have one already. Remember that you'll need enough MANA or ETH in your selected wallet to complete the transaction. Additionally, you'll need some extra tokens to cover the gas cost.
Confirm your virtual LAND
You may confirm your LAND on your wallet once the transaction is complete. If you're using a Trust Wallet, you can validate this in the MetaMask wallet's "Collectibles" and "NFTs" tabs. Each NFT on Decentraland is 16 meters by 16 meters and represents a piece of LAND. The amount of land plots on Decentraland is regulated at 90,000, which contributes to the feeling of scarcity.
But, how much does it cost to buy LAND in Decentraland? Currently, the most affordable LAND plots in Decentraland sell for roughly 4,000 MANA or 3.7 ETH. However, once a user buys LAND, they own it until someone else wants to buy it—the tokens, after all, are nonfungible.
On the other hand, MANA is fungible (as explained previously), which means that if a user has a large amount of it, they can sell it to anyone who needs it, even any new users who may have arrived to buy LAND.
Decentraland vs The Sandbox
Decentraland (MANA) describes itself as a virtual reality platform powered by the Ethereum network that allows users to build and monetize apps and content. Similarly, The Sandbox is a blockchain-based virtual world where users may play a game to develop, generate, sell and purchase digital goods.
The key differences between the two platforms are listed in the table below:
Is Decentraland (MANA) a good investment?
The primary purpose of Decentraland is to be used as a game. Virtual business development is another use case. Because MANA is primarily utilized as an in-game currency, MANA allows users to buy and sell goods within the game.
The popularity of "alternative life" games is encouraging, but it's difficult to predict if this trend will extend to 3D and blockchain. However, if Decentraland achieves the kind of adoption that its advocates hope for, we may be witnessing the birth of a whole new ecosystem of enterprises and experiences right before our eyes.
In contrast, many people believe that the metaverse will become more useful in the future. For example, in a metaverse, things like video calls and concerts may take place. However, Decentraland aspires to bring its technologies to a much larger audience and integrate the initiative into daily life, making it a significant investment asset.
However, there are extremes of bullishness and bearishness in the crypto market; there may be booms and eventual busts. Therefore, purchasing a plot of LAND in Decentraland should be approached with caution.
Decentraland Metaverse | A Complete Guide
Are you eager to know about what Decentraland Metaverse is? Or, for that matter, do you want to own a virtual plot shortly? If the answer to these questions is Yes! Then, you are at the right place.
This blog is your ultimate guide to better understanding the Ethereum-based Metaverse. Stay with us to know everything about Decentraland Metaverse and efficiently gain an edge in the sector. Develop your understanding of the virtual world of Metaverse technology through our lenses and start a voyage in the pool of opportunities waiting for you on the other end. This article will offer in-depth knowledge about Decentraland Metaverse in the simplest way possible. Let's start.

What is DECENTRALAND Metaverse?
What if I tell you that Decentraland is nothing but a virtual real estate platform where you can buy or sell virtual plots called LANDs? You'd find that hard to believe, right?
But, it's very much real.
Decentraland is an Ethereum-based 3 Dimensional virtual platform, basically, a Metaverse where you can buy or sell lands/plots. Then, as per your requirement, you use the land to create your settings and apps or a marketplace. It thrives as the first-ever fully decentralized virtual space that allows people to immerse themselves in a unique experience of technology prowess.
As the name suggests, DECENTRALAND comprises two words, decentral and land. This means the platform is fully decentralized and is a perfect option for anyone with good knowledge of crypto and augmented reality willing to venture across the virtual world of Metaverse. The project was launched for public access in January 2020. It was led by Ari Meilich and Esteban Ordano.
It is an exclusive platform that allows users to create, trade, and monetize their digital content and virtual real estate properties. You can own anything and everything on Decentraland, starting from an art gallery to hangout spots, from conference centers to lavish homes. These virtual properties can be acquired as Non-Fungible Tokens using the MANA cryptocurrency. The basic tokens you can use in Decentraland are MANA, Estate, and LAND. Each of these tokens has a distinguished purpose in the Decentraland ecosystem.
A major portion of the Decentraland cluster is owned and managed by the Decentraland DAO. DAO or Decentralized Autonomous Organization uses an off-chain voting setup for the community. This gives the token holders a fair chance to cast their vote and get involved in governance decisions and proposals. The DAO owns the most crucial smart contracts that constitute Decentraland. This includes the LAND Contract, wearables, the Estates contract, MANA Metaverse tokens, and marketplace. The DAO makes the platform a suitable place for community growth and development.
The users require to own MANA tokens in their Ethereum wallet to make use of and interact with the ecosystem of the application. The software of this application uses the Ethereum blockchain technology to keep track of the ownership of the digital LAND on this platform.
Let's move further to understanding what is MANA and how to buy LAND in the Decentraland ecosystem.
Learn about MANA, LAND, and Other Features
In Decentraland, the virtual space where a user interacts and creates is called LAND. As per the team, LAND is a finite and easily transferable 3D space representing an NFT collectible that can be owned and traded. The owners can use their virtual space for designing exclusive scenes, apps, and games. Each LAND token is an ERC-721 asset that fuels Decentraland's core ecosystem.
On the other hand, MANA is the in-game official cryptocurrency of the platform. It is an ERC-20 token that helps users to purchase LAND and make payments for in-built purchases. The currency is used to purchase estate properties, Avatars, wearables, and exclusive names within the virtual cluster. When you buy or sell a piece of land on the platform, MANA is burnt or, let's say, exchanged for land parcels.
There are a total of 2.19 billion MANA tokens. The Decentraland block can be mined to add new tokens to the network. As it works on Ethereum, the portal uses the Proof of Work consensus algorithm. Those willing to invest in MANA Tokens can do so through trusted exchanges like Coinbase.
You can access the virtual world of Decentraland metaverse blockchain via a virtual character known as an Avatar, with whom you're capable of exploring the growing Metaverse network of digital places and destinations. Every person needs to create an avatar to explore Decentraland. These avatars can be created by giving a personal touch, such as preferred body structure, shoes, clothes, accessories, etc. To engage in Metaverse activities, you must have digital tokens and be able to exchange with other Metaverse regulars. You have it all!
The tokens of the Decentraland Metaverse are good for accessing a lot of opportunities. They are programmed to provide and aid worth and transferability exactly like real-world assets. If we talk about it in simple terms, Decentraland Metaverse is similar to virtual reality video games, just that it is more real because it has digital assets.
In the Decentraland Metaverse ecosystem, there are 90,600+ equivalent-sized individual plots of virtual land. You'll find each in the form of an NFT land. It is considered that an NFT was purchased using MANA tokens when a property is sold.
Therefore, we can say that a land transaction in the Decentraland Metaverse is an NFT transaction in the virtual world.
After an individual or the player has purchased a parcel of land, they can use it to build or create an entire virtual city of their own. When you own the LAND tokens, you formally own that piece of land. Not only that, you can even bid on the items. It's not specifically for items on sale. Even if the products are not for sale, you can still bid on them and roll them out for the public at a particular price.
Growth of Decentraland Metaverse
Everything you think is available in the real world- you can find that in the Decentraland Metaverse. Digital shops, malls, theaters, skyscrapers, rapid transportation, and everything you can see in the real world are already there.
With each passing day, with the advancements in technology, people are inclining more towards the Metaverse. That is why a huge number of global companies are showing interest and investing in this digital real estate. The largest bank in the US, JP Morgan, even created a lounge in Decentraland by Onyx Lounge, which made the bank the first lender to enter into the virtual world of Decentraland Metaverse.
In November 2021, the Metaverse Group, an NFT-based Metaverse real estate organization, bought a plot on the Decentraland Metaverse for Rs. 18.15 crores.
Decentraland Infrastructure
The protocol has a three-layer infrastructure:
This layer tracks the ownership of LAND via an Ethereum smart contract.
It uses a decentralized module to download the virtual assets for the owners.
This layer offers P2P links between the users to interact.
Learn Metaverse Trading on Decentraland
Trading in the Metaverse takes place in the Decentraland Marketplace. It is a one-stop-shop for everything related to land, estates, avatars, and other things and commodities required to build a world. The craze for virtual assets has gained so much momentum that everyone, including mainstream investors and real estate companies, is also trying their best to get into this business.
Investors, especially, have so much faith in the virtual real estate sector and purchasing and selling digital properties in the Metaverse. It's crazy how people are interested in owning something that isn't real. Right?
But a few experts say that the rising interest in buying and selling and owning a piece of land in the Metaverse is because of the theory of intrinsic value that it gains from the real world. Real humans interact with each other in these virtual realities via avatars.
The Metaverse provides the facility to buy a property next to those they might wish to have a house with, for instance, their best friends who might live far away or their favorite celebrities and live there with them.
How to buy in Decentraland Metaverse?
You can find the land in these districts in Decentraland:
Crypto Valley
Fashion Street
Aetherian City
Vegas City
District X, etc.
You can buy, sell or rent in Decentraland. Now, you must be wondering if you can play Decentraland for free.
To answer this, you can be at ease. Yes! You can play Decentraland for free. You can explore the Metaverse world by opening the website on a browser. Just like other things, it's not entirely free. You can just explore the world of Metaverse and use a few of its features for free.
To get the maximum benefit from the platform, you require to use some of the most important features in the Decentraland, and you'd need to buy those features. You need to connect your account to your digital wallet for the same. The decision to experience Decentraland without a wallet would mean facing loss and missing out on so many rewards and benefits. Linking your Decentraland wallet will allow you to explore and make complete use of the platform. You can buy and accommodate your land with digital 3 Dimensional content and monetize the same for maximum benefit.
The only services that are available for free in the world of Meta are:
You can explore the Decentraland and identify the things you like
You can create your customized Avatar as per your liking
You can interact with other users in the world of Metaverse
Final Words
Would you buy a piece of land in the Metaverse? If I were at your place and in a position to invest in this property, I'd do that in the blink of an eye. The reason is that the world of Meta is going to be the future. The industry is going to see a rise in its sales.
You can purchase, sell or lease out land on an enterprise level, peer to peer at any time, on the official global market of Decentraland. Indulging in metaverse training or joining a Metaverse course can help you hone your skills in the field.
Thus, investing in Decentraland can be a good option for those who want to experience a new form of trading. The virtual world will enrich you with many potential opportunities for growth. Moreover, the platform will help you enjoy and fetch some juicy returns for your wallets!
A Complete Beginners Guide to Decentraland
by Hitesh Malviya
in Guide
500
SHARES
6.3k
VIEWS
Share on FacebookShare on Twitter
Decentraland is a decentralized virtual world where you can buy, sell, and build digital real estate, artwork, and non-fungible tokens (NFTs). You can accomplish all of this by playing games and engaging in various activities in the virtual world!
Finally, Decentraland, in its own words, is a social experience in which you interact with other community members. The platform is community-owned and is built on the Ethereum blockchain.
The Decentraland Foundation, founded by Ariel Meilich and Esteban Ordano in 2015, is the organization that developed Decentraland. In January 2020, the public was granted access to the virtual world. It has since become one of the most sought-after metaverses in the crypto universe.
Decentraland: A Decentralized World
To play in Decentraland, you don't need much; as a guest user, you can simply explore the world by opening its website in a browser. Then, make an avatar, name it, confirm your legal age, accept the terms and conditions, and you're ready to go!
However, the platform does not currently support mobile devices.
You should also have a crypto wallet to properly store your cryptocurrencies and other digital assets in order to fully experience all of the benefits of Decentraland. If you don't have a wallet, you'll only be allowed to walk around and customize your avatar; you won't be able to participate in activities.
Founders of Decentraland
Esteban Ordano and Ariel Meilich founded Decentraland, which debuted in its current form in 2017. Because Decentraland is conceptualized in terms of social development and advancement, Stone Age was the name given to the first version of Decentraland's metaverse.The first stage was released in 2015, and it consisted of pixels in an infinite 2D grid that represented ownership over the digital world.
The next stage, named the 'Bronze Age', was created at the end of 2016. The team expanded Decentraland into a 3D world with divided plots. The team created a P2P network and named the next stage Iron Age to create a fast paced environment where users can create apps, interactive content, and communicate with other users. The final stage is supported by Ethereum, which acts as a supercomputer to support the Decentraland metaverse ecosystem.
Possibilities and Customization on Decentraland
You can develop 3D environments and avatars and showcase various digital assets that you can monetize on Decentraland—the possibilities are unlimited! You can roam around wherever you wish once you're in the virtual environment or utilize the map to teleport to a specific location.
All from the comfort of your own home, go to a virtual club, see NFT art displays, compete in a racing game, or catch up with virtual mates. All of this will be done as avatars or digital representations of yourself. Your avatar assists people in recognizing you and assists you in keeping track of all of your friends.
You can now customize your avatar in various ways to make it as unique as you are. Choose from a variety of facial features such as eyes, smiles, or facial hair, as well as the ideal outfit, skin tone, and hairstyles. You can also personalize your avatar by giving it a unique name. You can explore the virtual world once you've created the ideal avatar.
Games on Decentraland
You can also play a variety of games in the metaverse. Some feature a play-to-earn economy where you may earn money by playing games. Ethermon, for example, is a play-to-earn monster-catching role-playing game. You can buy Ethermon NFTs and compete with other players here.
Meanwhile, a collectible dragon egg NFT can be purchased in WonderQuest. Once the dragon has been hatched, you can use it to engage with it in the virtual gaming world, which includes several quests and musical performances.
You can play Tominoya Casino, a virtual casino created by Decentral Games, or Battle Racers, a racing game. Atari, the video gaming legend, also has a metaverse estate. Many of the developer's classic games are available here.
You can also utilize Decentraland's Software Development Kit to create games on your LAND if you're a developer.
Economy of Decentraland
Its users administer Decentraland through the Decentraland DAO, a decentralized autonomous organization. MANA and LAND are the metaverse's native tokens.
MANA
MANA is the cryptocurrency of Decentraland, and it has a limited supply. Because it is an ERC-20 token (fungible token), it can be purchased and traded on crypto exchanges such as Binance and Huobi Global and "stacked" on DEXs such as Uniswap and Sushiswap. It can be used to pay for avatars, LAND, accessories, collectables, gaming, and other things in the metaverse.
Meanwhile, you can lock your MANA into a WMANA contract, resulting in wrapped MANA. This wrapped MANA will be "locked," which means it cannot be spent or transferred.
LAND
The metaverse describes the land as a "non-fungible, transferable, scarce digital asset stored in an Ethereum smart contract." Decentraland is made up of 90,601 LAND parcels measuring 16 x 16 metres in size. Each parcel is an NFT that can be identified by its virtual world location/coordinates. It also includes information about the owner. Furthermore, an Estate is made up of two or more adjacent parcels.
Additionally, the colour of each parcel varies. The light grey lines, for example, are roads and cannot be purchased. Similarly, the nine green areas are Decentraland community-owned plazas, whereas the grey lands are those that are owned but not for sale. The light blue coloured lands, on the other hand, are for sale. Land near the Genesis Plaza (the plaza at the centre) or popular districts are more expensive.
You can purchase parcels directly from Decentraland's Marketplace. These come at a hefty price. In June, for example, 259 parcels were sold for a total of $913,228. This is the most expensive LAND offered for sale in Decentraland.
Technology Architecture
The protocol of Decentraland is divided into three layers:
Consensus layer: An Ethereum smart contract is used to track land ownership and land content.
Land content layer: To render content in the virtual world, a decentralized distribution system is used.
Real-time layer: Allows users to interact with one another via peer-to-peer connections.
Decentraland ILO (First Land Auction)
Decentraland held its first Land Auction in 2017.
This is probably the most important aspect of Decentraland History to fully comprehend, especially if you are an investor.
Every land parcel (except genesis plazas, roads, and districts) was listed for sale with a minimum bid of 1,000 MANA.
So, if you had 10,000 MANA, you could enter the land auction and bid on ten different lands. If someone else came along and wanted that land, they could bid $1,250 and potentially own it if they weren't outbid by the end of the event.
All MANA spent on land was burned at the end of the terraform event, removing them from circulation. This amounted to a mind-boggling 125M MANA ($10 – $12M at the time).
https://googleads.g.doubleclick.net/pagead/ads?client=ca-pub-9209736557901360&output=html&h=90&slotname=8688383588&adk=3014212378&adf=1892713762&pi=t.ma~as.8688383588&w=728&lmt=1667243255&rafmt=12&format=728×90&url=https%3A%2F%2Fitsblockchain.com%2Fdecentraland-complete-beginners-guide%2F&wgl=1&adsid=ChAI8OT9mgYQsuvmkeP0g8wbEjgA0fhFeWw7RfY8-BGEGgyP3y-F02ekBy8UpFea4KA4HqBJs2BLx9_-tf8vOkxy3mPsQHwrJergFQ&uach=WyJXaW5kb3dzIiwiMC4xLjAiLCJ4ODYiLCIiLCIxMDYuMC41MjQ5LjEyMSIsW10sZmFsc2UsbnVsbCwiNjQiLFtbIkNocm9taXVtIiwiMTA2LjAuNTI0OS4xMjEiXSxbIkdvb2dsZSBDaHJvbWUiLCIxMDYuMC41MjQ5LjEyMSJdLFsiTm90O0E9QnJhbmQiLCI5OS4wLjAuMCJdXSxmYWxzZV0.&dt=1667243220236&bpp=3&bdt=14982&idt=1728&shv=r20221027&mjsv=m202210250101&ptt=9&saldr=aa&abxe=1&cookie=ID%3Db5e6de7b9c3052ce%3AT%3D1667243221%3AS%3DALNI_MYd23uCEUl9Wwql8AijSy6haMhP4w&gpic=UID%3D00000b722189959b%3AT%3D1667243221%3ART%3D1667243221%3AS%3DALNI_Ma8l9wPVdMoR37Hye81jPHEeFLpug&prev_fmts=0x0%2C970x90&nras=1&correlator=8510162696771&frm=20&pv=1&ga_vid=1773629535.1667243220&ga_sid=1667243222&ga_hid=1428469731&ga_fc=1&u_tz=330&u_his=1&u_h=768&u_w=1366&u_ah=728&u_aw=1366&u_cd=24&u_sd=1&dmc=2&adx=116&ady=4477&biw=1349&bih=551&scr_x=0&scr_y=2288&eid=44759875%2C44759926%2C44759842%2C44761792%2C42531705%2C44767166%2C44773614%2C44775017%2C31060047&oid=2&pvsid=1431944842604161&tmod=1703757814&uas=3&nvt=2&ref=https%3A%2F%2Fwww.google.com%2F&eae=0&fc=1920&brdim=0%2C0%2C0%2C0%2C1366%2C0%2C1366%2C728%2C1366%2C568&vis=1&rsz=%7C%7CeEbr%7C&abl=CS&pfx=0&fu=1280&bc=31&jar=2022-10-31-19&ifi=3&uci=a!3&btvi=1&fsb=1&xpc=byLyBOFXm6&p=https%3A//itsblockchain.com&dtd=34857
34,358 lands were sold, the majority for 1-2,000 MANA, but many were sold for much more, particularly near the plaza's centre, where some sold for nearly 600,000 MANA!
The auction ended after two weeks, and the first owners of Decentraland land were established.
Later, Decentraland held another Land Auction to sell the remaining 9,331 parcels. All 9,331 remaining parcels were purchased, totalling 109,521,854 MANA burned, or approximately $6.6 million USD.
Trading in Private Chat and Marketplace
When the first auction concluded, over 2,000 individual wallets owned land.
Unsold lands totalled 9,331 and to be sold at a later date.
What followed was a thriving market for buying and selling land. People were buying and selling these lands privately because Decentraland's marketplace had not yet been launched. It was thrilling, exciting, and extremely risky.
Decentraland eventually released their own marketplace, making it possible to track Land trades.
People were selling $10 of thousands of digital land every day, with some sales reaching $215,000 USD.
How do you get started in Decentraland?
Decentraland Marketplace: The Decentraland Marketplace is the company's internal ecosystem for transferring LAND and Estate parcels, as well as wearables and unique names. The Marketplace facilitates listing and P2P transactions between users who set their own prices and negotiate their own deals. There is an Atlas view, which looks like a surveyor's map and shows which LAND parcels and Estates are for sale and other LAND and who owns it if any. You can purchase LAND outright or place a bid on any LAND you see. A more traditional Marketplace view is available, where you can view various listings, including non-LAND assets such as wearables and unique names.
Decentraland Agora Voting: It is a medium of voting. The community is polled on questions, and users vote here with MANA.
Decentraland SDK: If you want to begin custom building on land parcels, you can do so with Decentralands SDK.
Decentraland Builder: A cool drag-and-drop builder that allows you to simply drag-and-drop epic builds. Decentraland has released an SDK as well as an in-app GUI called Builder that runs the SDK behind the scenes. The Builder functions as a visual editor, allowing users to create 'scenes', which are graphical objects that can be loaded into Decentraland. Scenes can be loaded on LAND that you own or LAND that has permitted you to load them on.
Decentraland Avatars: Create your avatar as you must have one before you can travel the world! In Decentraland, avatars are visual representations of users. Because avatars are outside the scope of third-party development, they can only be customized in-app. One peculiarity is that each avatar has a distinct name. By using a Decentraland wallet and paying 100 MANA, you can claim your avatar name before it is taken. You can, however, create it without claiming a name or claim it later. When you create an avatar with the Decentraland wallet, you will receive a passport, which will serve as your digital identity in the Decentraland ecosystem.
Decentraland DAO
Decentraland differs from other metaverses in that a centralized body does not govern it. Instead, it is controlled by metaverse users who own MANA and LAND through the Decentraland DAO. This means that the players have complete authority over everything from land to assets to governance.
Token holders have the ability to create and vote on metaverse development proposals. They can also create polls, vote on policy updates, token economics, and LAND auctions, among other things. You have the following voting power depending on the token you hold:
MANA wrapped – one voting power
LAND – Voting power of 2000 units
Estate – Voting power of 2000 units
Investing in MANA
MANA appears to have a bright future with the current developments in the Decentraland ecosystem. However, given the volatility of cryptocurrencies, investors must exercise caution and conduct extensive research before making the big leap.
Making money with Decentraland
There are numerous ways to make money once you join Decentraland. Real estate, like in the real world, is gaining traction in the virtual world. Because LAND is a limited resource, many people believe its value will rise over time.
When you purchase LAND, you can use it to host applications such as games or gambling, advertising, or gaming communities, among other things. You can charge entry fees for any application you create. You can also rent or sell the LAND to developers and content creators who want to build on it. You can also display and sell products such as digital collectibles.
Playing a variety of casino games or play-to-earn games is another option to make a lot of money. For example, you can earn $DG tokens in Decentral Games' virtual casino in a variety of ways, including affiliate bonuses and governance rewards.
In addition, the metaverse is generating real-world job opportunities. For example, Tominoya Casino has hired at least 20 part-time greeters as well as a manager.
How is Decentraland Network Secured?
Decentraland creates scenes in the ledger known as metaverse2 using TypeScript coding. The protocol secures the system on which the VR ecosystem is hosted and was designed to support increasing users. The use of Ethereum adds an additional layer of security.
The first layer of the system secures users' ownership of LAND by tracking and recording LAND purchases and ownership of VR parcels on the Decentraland VR platform.
In exchange for a bounty, users and community members can test the network for bugs and critical risk points and report any suspicious malfunctions to the team.
How to choose Decentraland Wallet
MANA is an ERC-20 token, which means it can be stored in any wallet that supports Ethereum-based tokens. The type of MANA wallet you select will most likely be determined by what you intend to use it for and how much money you need to store.
Hardware wallets, also known as cold wallets, such as the Ledger or Trezor, offer the most secure option, with offline storage and backup. However, hardware wallets have a higher learning curve and are more expensive. As a result, more experienced users may be better suited to storing larger amounts of MANA.
Software wallets are another option that is both free and simple to use. They can be custodial or non-custodial and can be downloaded as smartphone or desktop apps. The service provider manages and backs up your private keys when you use custodial wallets. Non-custodial wallets store private keys on your device using secure elements. While they are more convenient, they are regarded as less secure than hardware wallets and may be better suited to smaller amounts of MANA or more novice users.
Decentraland Mining
The system was developed initially on the basis of a Proof-of-Concept, which facilitates the tracking system for LAND ownership in the Decentraland universe. Wearables, which are non-fungible assets that people can buy and sell on the NFT market, can be mined in Decentraland.
Decentraland was built on Ethereum, which is currently a Proof-of-Work blockchain that is being converted to Proof-of-Stake. Decentraland took the first step toward a layer 2 solution for payments and transactions in 2021 by allowing users to transfer their MANA tokens from the Ethereum blockchain to Polygon, secured by Proof-of-Stake network validators.
Future of Decentraland
In the midst of a pandemic that confined millions of people to their homes, Decentraland provided a way for individuals to meet friends, visit galleries, buy art, party at clubs, and more—all without leaving their houses. The metaverse's future also depends on increasing the number of users who visit and interact with the platform.
The metaverse has developed greatly since its launch, with new features being introduced on a regular basis. Furthermore, plenty of additional features are now in the process or will be soon. The metaverse will have some difficult tasks to do in the following months. Its success will be determined by how well it rises to the challenge, how much it improves its features, and how it responds to existing concerns.
Decentraland Updated Roadmap
The updated roadmap for Decentraland gives us a glimpse of what lies ahead for its players. Player name colours, street names, NFT badges, and improved lighting in world explorer are just a few of the improvements that will be available soon. Community ambassadors, who will provide new users with a personalized tour, are also on the way.
Other upcoming features include groups or a DAO-based Guild, in-world trading, and an in-world scoreboard screen. Creator contests, a VR world explorer, and simple multiplayer functionality, among other things, are in the works.
Conclusion
Decentraland has grown by leaps and bounds since it first became available to the public over a year ago. It has recently become the go-to location for purchasing virtual lands and other NFTs. If Decentraland leads the market, the price of MANA will rise as well, resulting in a higher ROI for investors.
It is critical to understand that Decentraland is more than just a video game. Instead, it exemplifies the many benefits of decentralization. If you can purchase virtual real estate and set up shop on the metaverse, there may not be a better way to reap the benefits of decentralization.
Decentraland, as one of the most popular metaverses currently available, appears to have a promising future. Furthermore, Decentraland is a great place to start for those new to the metaverse, especially given its ease of use. It may even be a profitable investment in the long run.